Police: Gun-runner bought guns in Arkansas to sell to Chicago gangs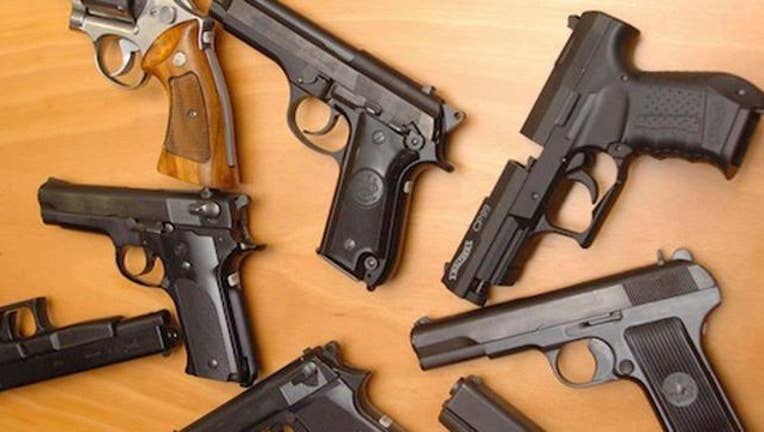 SUN-TIMES MEDIA WIRE - Chicago Police on Tuesday touted the least-violent Labor Day weekend in three years, and the arrest of an alleged gun-runner who trafficked "hundreds" of weapons— including assault rifles— from Arkansas to street gangs on the South and West sides.
The alleged gun-trafficker was arrested Sunday in Chicago Ridge during an exchange of eight weapons for $7,000, Chief Anthony Riccio of the Organized Crime Division said at a news conference at CPD headquarters.
A federal criminal complaint filed Tuesday stated that Klint Kelley, of Malvern, Ark., sold 21 guns to a confidential informant in three buys staged between April and the weekend's bust, apparently timing the deals with visits to family in the Chicago suburbs, the Chicago Sun-Times is reporting.
Kelley is expected to appear in federal court in Chicago this afternoon, according to Joseph Fitzgerald, spokesman for the U.S. Attorney's Office.
The arrest  was the culmination of a four-month sting operation targeting the gun trafficker, who Riccio said had "ties" to Chicago gangs, but lived in Arkansas, where he purchased weapons at gun shows and online, but did not fill out paperwork that would have listed him as the purchaser.
"He was pretty slick about it," Riccio said. "He would never do the ownership paperwork because he knew they ultimately would be used for crimes in the city of Chicago."
Sun-Times statistics show seven people were killed and another 37 wounded from Friday night through Monday night. Last year, 13 people were killed and 52 wounded during the same span.
First Deputy Supt. Kevin Navarro said officers seized more than 100 guns during the 80 hours between Friday night to Monday, bettering the usual rate of one gun per hour the department averages on a typical day.
Navarro credited the presence of 1,300 additional officers on the streets over the long weekend, and the department's new Strategic Decision Support Centers with helping commanders figure out where to dispatch the extra bodies to head off violence.
After a shooting Sunday, Area North commanders were able to compile data in the area's "Hunch Lab" data base and determine that there was a conflagration between gangs in the neighborhood, and that deploying extra officers for traffic enforcement and more visible patrols might suppress more gunplay, department spokesman Anthony Guglielmi said.
Soon after the shooting, officers conducting traffic enforcement pulled over a car and found one of the occupants had an illegal handgun. The offender was charged with a felony and two other passengers in the car are being questioned as "persons of interest" in the shooting, Guglielmi said.
In a bid to tamp down violence, CPD officers also rounded up more than 100 people identified as possible participants in violence on Thursday and Friday.
But additional manpower and pre-weekend arrests have been standard practice for CPD over summer holiday weekends for years, and the tactics have shown mixed success: Memorial Day weekend was less violent this year than 2016, but the July 4 weekend saw 14 people killed and 87 wounded in shootings.