Police release names of those killed in the Colorado Springs Club Q shooting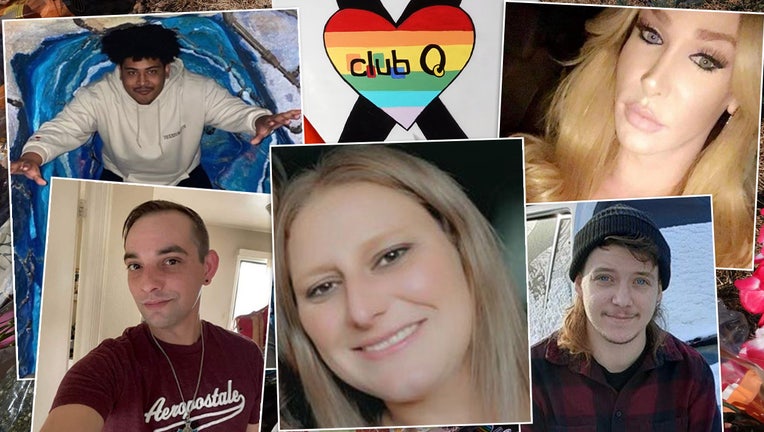 article
COLORADO SPRINGS, Colo. - A 22-year-old gunman opened fire with a semiautomatic rifle inside a gay nightclub in Colorado Springs, killing five people and leaving 25 injured before he was subdued by "heroic" patrons and arrested by police who arrived within minutes, authorities said Sunday.
The suspect in the Saturday night shooting at Club Q used an AR-15-style semiautomatic weapon, a law enforcement official said. A handgun and additional ammunition magazines also were recovered, according to the official, who could not discuss details of the investigation publicly and spoke to The Associated Press on condition of anonymity.
The attack ended when a patron grabbed a handgun from the suspect and hit him with it, Colorado Springs Mayor John Suthers told The Associated Press. The person who hit the gunman had him pinned down when police arrived, Suthers said.
Of the 25 injured, at least seven were in critical condition, authorities said. Some were hurt trying to flee, and it was unclear if all the victims were shot, a police spokesperson said.
On Monday afternoon, Colorado Springs Police Department identified those who were slain on social media. 
"We respect all of our community members, including our LGBTQ community. Therefore we will be identifying the victims by how they identified themselves and how their families have loved and identified them," police wrote on Twitter. 
Here are the victims of the Club Q shooting: 
Kelly Loving: She/Her
Daniel Aston: He/Him
Derrick Rump: He/Him
Ashley Paugh: She/Her
Raymond Green Vance: He/Him
The shooting rekindled memories of the 2016 massacre at the Pulse gay nightclub in Orlando, Florida, that killed 49 people. Colorado has experienced several mass killings, including at Columbine High School in 1999, a movie theater in suburban Denver in 2012 and at a Boulder supermarket last year.
It was the sixth mass killing this month and came in a year when the nation was shaken by the deaths of 21 in a school shooting in Uvalde, Texas.
Club Q is a gay and lesbian nightclub that features a drag show on Saturdays, according to its website. Club Q's Facebook page said planned entertainment included a "punk and alternative show" preceding a birthday dance party, with a Sunday all-ages drag brunch.
Colorado Gov. Jared Polis, who became the first openly gay man in the United States to be elected governor in 2018, called the shooting "sickening."
"My heart breaks for the family and friends of those lost, injured and traumatized," Polis said. "Colorado stands with our LGTBQ community and everyone impacted by this tragedy as we mourn."
A makeshift memorial sprang up Sunday near the club, with flowers, a stuffed animal and candles and a sign saying "Love over hate" next to a rainbow-colored heart.