Presidential candidates campaign in Illinois before primary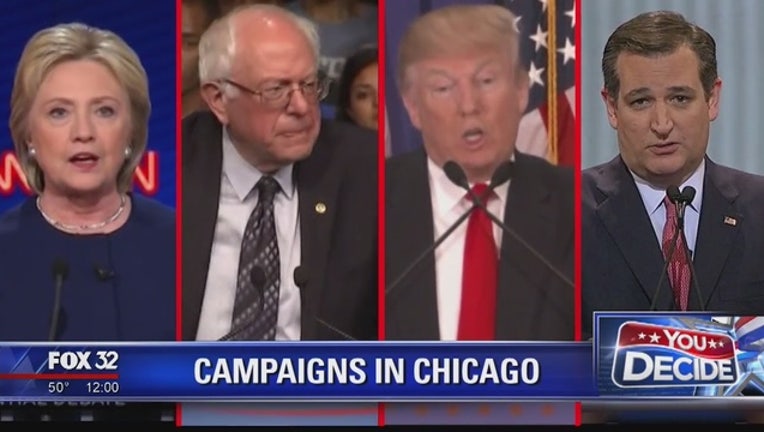 article
CHICAGO (AP) - More candidates for president are making stops in Illinois on Friday as they make a final push before the state's primary day, which could make or break some campaigns.
Republicans Donald Trump and U.S. Sen. Ted Cruz had evening events planned, with Cruz addressing a closed-door, big-dollar Illinois Republican Party fundraiser at a Chicago hotel and a GOP dinner in Rolling Meadows.
Trump's rally at the University of Illinois at Chicago was expected to draw thousands of protesters. Among the protest organizers is Democratic U.S. Rep. Luis Gutierrez, of Chicago, who said Trump's anti-immigrant positions would "take us back to the 1950s."
Democratic candidate U.S. Sen. Bernie Sanders was also planning a campaign stop in the Chicago suburb of Summit on Friday night.
The Vermont senator released three new TV ads in Illinois on Friday, including one that features Cook County Commissioner Jesus "Chuy" Garcia, who forced Chicago Rahm Emanuel into a runoff election for a second term last year. In another, Chicago Public Schools principal Troy LaRaviere, a frequent critic of Emanuel, says the mayor is to blame for the city's problems and that any candidate who backs him is "not willing to take on the establishment."
It's a clear swipe at Democratic rival Hillary Clinton, who has strong ties to Emanuel. The mayor has faced calls to resign since the city delayed releasing dash-cam video of a white police officer shooting a black teenager 16 times. Emanuel served as a top adviser in President Bill Clinton's White House, and he has endorsed Hillary Clinton.
Holding a get-out-the-vote rally Thursday night in the Chicago suburb of Vernon Hills, Clinton aimed most of her criticism at the Republican candidates, saying they're overly pessimistic and more focused on rhetoric than policy. The former secretary of state said people around the world "watch us so closely."
"I've been getting messages from a lot of leaders I know from around the world and their message basically is, 'What is happening?'" Clinton said, referring to the race for the GOP nomination.
Illinois Republicans will award 69 delegates in Tuesday's primary, with the winner of the statewide preference poll getting 15 delegates and the remaining elected from each congressional district.
On the Democratic side Illinois awards 182 delegates, including 102 awarded proportionately within each congressional district, provided a candidate gets at least 15 percent of the vote.
But the biggest contests Tuesday will be in winner-take-all races in Ohio and Florida. Those are must-win races for Ohio's Republican governor, John Kasich, who campaigned in Illinois on Wednesday, U.S. Sen. Marco Rubio, of Florida. The two trail Trump and Cruz in delegates.