Prosecutors: Teen killed with Chicago family begged for life before stabbing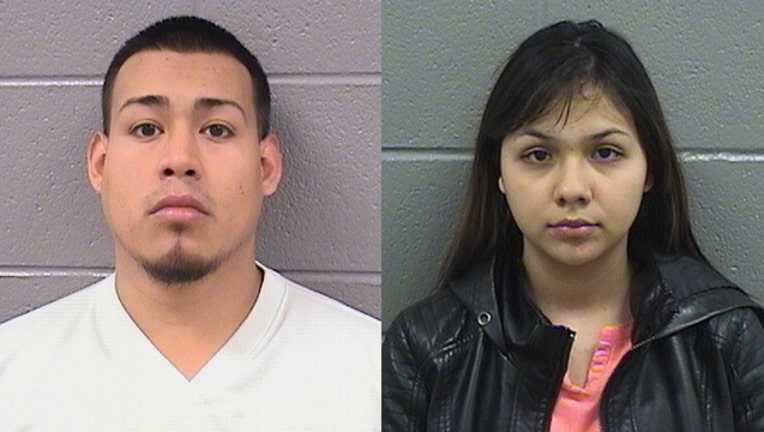 article
CHICAGO (AP) - A 13-year-old boy who listened as his younger brother was stabbed to death by a relative begged for his own life before he was killed in a Chicago attack in which four adults also were slain, prosecutors said Friday.
A Cook County judge called the alleged actions of Diego Uribe Cruz, 22, and his 19-year-old girlfriend Jafeth Ramos "pure evil" while ruling that they be held without bail pending trial.
Both were charged with first-degree murder Thursday after police say they found DNA evidence matching Uribe Cruz, a nephew to one of the victims by marriage, to the February killings. Police initially identified him as Diego Uribe but authorities used his full name at Friday's hearing and in court documents.
Police say cellphone records also put Uribe Cruz at the scene and that his motive was to rob the family for money. They say Ramos was an accomplice.
According to prosecutors, Uribe Cruz had killed most of the family — including his aunt Maria Herminia Martinez, 32, who was divorced from his uncle — when he had her two sons show him where the money was kept, the Chicago Tribune (http://trib.in/1TsauDz ) reported Friday.
Uribe Cruz then stabbed 10-year-old Alexis Cruz in the basement before he returned upstairs to kill the boy's 13-year-old brother, Leonardo Cruz, prosecutors alleged.
"Please no! Please don't! I just want to live," Leonardo cried out while he too was stabbed, prosecutors said.
No attorneys were listed for Uribe Cruz and Ramos.
The couple is accused of using some of the stolen money to buy milk and diapers for their own child and selling jewelry stolen from the home. Before killing the victims, they visited with them, authorities said.
Prosecutors said that during the robbery, Ramos had one of the boys hold a bag of items the couple stole because it was too heavy for her.
The final victim — Noe Martinez Sr., 62 — was stabbed to death after returning home from a trip to buy snacks at a neighborhood store.
Prosecutors said the pair gave recorded confessions detailing the killings. They said Ramos told police they stole about $550 in cash and coins and sold the stolen jewelry at a pawnshop for $150.