Q&A: Chicago park defender unapologetic over Lucas Museum fray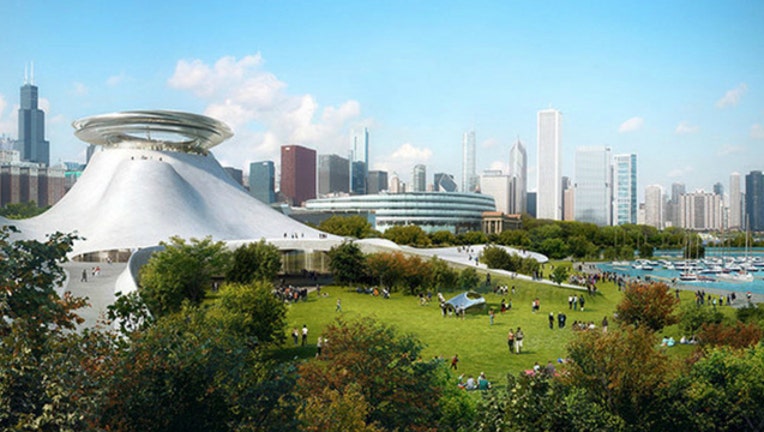 article
CHICAGO (AP) — The head of a small nonprofit that stood its ground and blocked "Star Wars" creator George Lucas' private museum from being built on Chicago's prized lakefront is unapologetic in the face of attacks that its campaign merely protected an existing parking lot.
The preservationist group was vilified after going up against a billionaire Hollywood mogul and a mayor who was once a White House chief of staff. Lucas' wife accused them of denying "black and brown children" opportunities and a prominent Catholic priest even compared them to a street gang.
But as crowds fill the ribbon of green along Lake Michigan this Fourth of July, Friends of the Parks Director Juanita Irizarry urges people not to take for granted the dazzling open spaces that generations of activists have fought to preserve. Here are excerpts from an Associated Press interview Thursday with Irizarry:
___
Q: Friends of the Parks' fight with Lucas, Mayor Rahm Emanuel and other powerful interests has been cast by some as a David vs. Goliath story. Some cheered you as "lakefront-loving idealists," while the Rev. Michael Pfleger compared your group to the Gangster Disciples gang. Who is the Friends of the Parks?
A: "When we got started (in 1975) really Chicago's parks all across the city ... were not very well invested in. And so there was actually a call for a watchdog group to be created to kind of keep the city accountable. Then, around 1980, the U.S. Department of Justice sued the Chicago Park District for discrimination against minority communities. And we were brought in as part of the implementation team to do the things that the consent decree called for. ... Folks have called us elitist and a bunch of rich white people, but the history of the organization actually is very much connected to this effort to make sure that brown and black folks on the West and South sides got better served."
___
Q: The site is currently a parking lot for Soldier Field, yet you say leaving it as such is preferable to allowing construction of a private museum — even one that adds acres of new parkland around it — because it would violate the public trust doctrine meant to guard public land. Emanuel, meanwhile, says your lawsuit and Lucas' departure last week cost the city thousands of jobs, millions of dollars in economic investment and countless educational opportunities. Why was this fight so important to you?
A: "All of those jobs and economic development benefits could just as easily have been brought to Chicago by a Lucas Museum built on the other side of Lake Shore Drive. So it was really the Lucases who would only accept an East Lake Shore Drive site who decided that Chicago should not have those benefits. Period.
"... Now the (Emanuel) administration is blaming us for there being a parking lot there when the city has chosen the revenue (it brings) over living up to a previous commitment to turn it into parkland."
___
Q: Your predecessor as director, in announcing the lawsuit in November 2014, said Lucas' plan was "an assault to the shores of Lake Michigan" and noted Chicago's lakefront is the envy of waterfront cities throughout the world. What are some examples of cities striking the right balance, and what cities have failed?
A: "I think you can look at any lakefront city and find that you don't have anywhere near the access that we do. I recently read an article with somebody talking about how Toronto has screwed up their access to the lake. ... The legislature in Puerto Rico (recently) voted to sell eight public beaches to billionaires to address their economic problems. And Puerto Rico for many years had been unusual in the Caribbean for keeping most of its beachfront open to Puerto Ricans."
___
Q: Reflecting on his own 20-year lakefront crusade, Montgomery Ward told the Chicago Tribune, "Had I known in 1890 how long it would take me to preserve a park for the people against their will, I doubt if I would have undertaken it." Why, a century later, is Chicago still fighting these battles?
A: "There's always (going to be) folks who care about the environment who think that open space should be open space and real estate developer people who think open space is space to be built on. ... In Chicago, I think we probably need a renewed effort ... of educating people about the history of why they have this lakefront to enjoy. ... Most Chicagoans probably (don't) even have a clue that this is even special."