Rauner criticizes request to halt state worker paychecks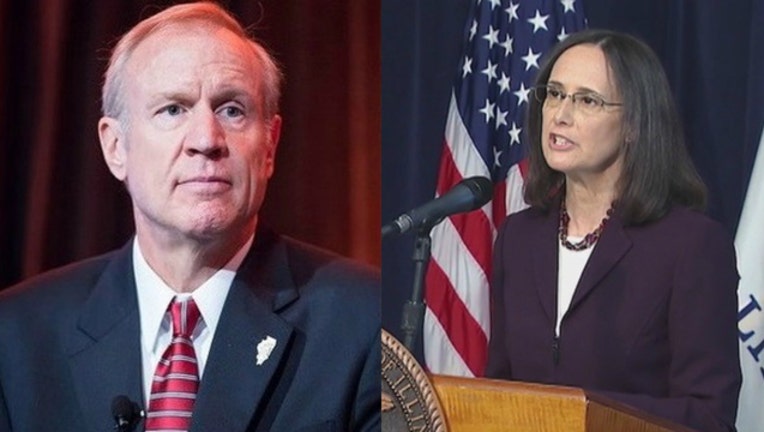 article
SPRINGFIELD, Ill. (AP) - Illinois Attorney General Lisa Madigan's request that a judge bar the state from paying 63,000 government employees to get feuding Republicans and Democrats to move on a budget deal was decried Friday by GOP Gov. Bruce Rauner, who claimed the Democrat is attempting to "cause a crisis" and shut the government down.
Madigan filed the motion Thursday in St. Clair County, a staunch working-class Illinois suburb of St. Louis where a judge nearly two years ago ordered that withholding paychecks, even without a budget, would violate the state Constitution's requirement that contractual agreements be honored.
She wants the court to set a Feb. 28 deadline, giving Rauner and Democrats who control the Legislature "additional time to enact appropriations" before the comptroller stops cutting checks.
Madigan's move could halt $400 million-a-month in payroll to state workers, forcing major parts of state government to temporarily close. With no budget since July 2015, it's the longest a state has gone without spending authority since at least World War II.
"We won't abandon the prisons and the state police won't park their cars, but most of state government will grind to a halt," said Springfield political scientist Kent Redfield.
Rauner criticized the attorney general. Lisa Madigan is the daughter of powerful House Speaker Michael Madigan, the Chicago Democrat whom Rauner has held up as emblematic of problems he wants to fix.
"I hope this is not a direct attempt to cause a crisis to force a shutdown of the government ... as a step to force a tax hike without any changes to our broken system," Rauner told reporters Friday in Chicago.
The first-term Republican governor campaigned on smaller government and often impugned state workers. But he became their biggest ally in 2015 when their paychecks were threatened and a work stoppage would have evaporated his leverage. Rauner wants to tie a balanced budget to restructuring the business climate to boost commerce, curtail union influence and curb politicians' power.
Rauner noted that the Senate continues negotiating a bipartisan budget plan to break the deadlock. Leaders promised a January vote which didn't materialize, but pledged to try again next month.
A government shutdown would appear to favor Democrats who want to tackle the shortfall with tax increases, spending cuts - and no Rauner policy changes, said Nick Kachiroubas, a DePaul University political scientist. But played shrewdly, Rauner could reject a tax increase, weather the short-term pain of a possible shutdown, and still recover, with help of his personal wealth, in time for the 2018 governor's race, he said.
American Federation of State, County and Municipal Employees Council 31 spokesman Anders Lindall said the union was "shocked and extremely disappointed" by the filing.
AFSCME is fighting Rauner on another front. The union's 35,000 members have been without a ratified contract for two years. A state labor board has declared negotiations irrevocably stalled and allowed Rauner to impose the contract he prefers. The union has scheduled its first ever vote seeking membership support for a strike. It begins Monday at work sites and continues to Feb. 19.
A possible shutdown would not dampen enthusiasm for a strike vote, said Robert Bruno, director of the Labor Education Program at the University of Illinois at Urbana-Champaign. "It could only have the effect of further encouraging it."
___
Contact Political Writer John O'Connor at https://twitter.com/apoconnor. His work can be found at http://bigstory.ap.org/content/john-oconnor.