Rauner expresses optimism about Illinois budget talks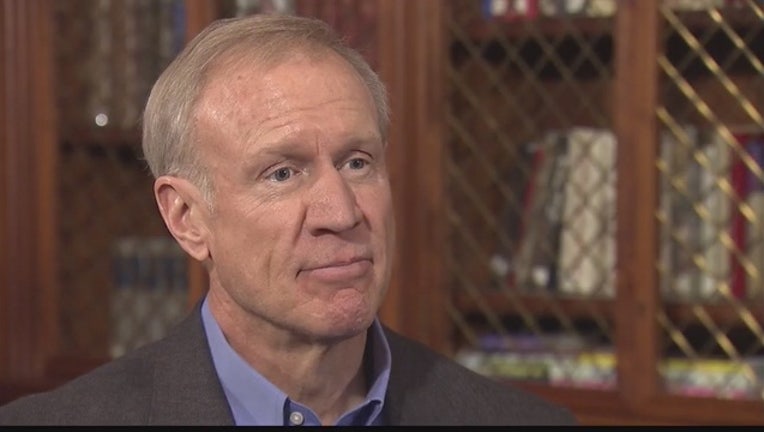 article
AUBURN, Ill. (AP) - Gov. Bruce Rauner struck an optimistic tone that he can reach a budget agreement with Illinois lawmakers next month, telling an assembly of high school students Wednesday that he's "pretty excited" about the prospect of ending the historic stalemate.
Agreement has been elusive during the more than 10 months the Republican governor has faced off with Democrats who control the Legislature. But Rauner's comments come a week after lawmakers reached a rare bipartisan deal to allocate $600 million in short-term aid for colleges so they can make it through summer.
"I don't want to get too excited, but I'm an optimistic guy," he told Auburn High School students. He explained that his optimism is based on negotiations among rank-and-file lawmakers he says have been meeting this month in groups to discuss possible compromises on pro-business reforms, budget cuts, and potential tax increases to close a multi-billion dollar deficit.
Rauner's comments were more subdued than in recent weeks when he criticized Democratic leaders for lack of progress in budget negotiations and accused them of stalling and "playing games" to force a tax hike with social service programs crumbling and colleges laying off staff.
Democrats have balked at Rauner's demand that they pass legislation that reduces costs to Illinois businesses and restricts the power of their longtime union allies. Democratic leaders have insisted that Rauner focus on budget instead of what House Speaker Michael Madigan has referred to as his "personal agenda."
"When you work on the budget questions, which is a big task, and lay aside the non-budget issues, you can make some progress," Madigan spokesman Steve Brown said Wednesday, citing last week's deal for colleges as an example.
Rauner has said that his suggested reforms are still part of the negotiations, but doesn't need all of them to come to a budget agreement.
Lawmakers return to Springfield for work next week to begin the final month of this year's legislative session. If the standoff continues past May, compromise will be harder because any legislation will require a supermajority instead of the simple majority needed now.
When lawmakers come back to the Capitol they'll consider another temporary budget fix, this time a $450 million in aid for social service programs. Rauner said "there might a short-term solution there," but said he would prefer a "grand compromise" for a full budget covering the current fiscal year and the next one beginning July 1.
If there's no compromise, Rauner, a wealthy former venture capitalist, said he would consider calling a special session that he would pay for himself to spare taxpayer's the cost. But, he said, "We should not let this go past May 31."
"The real goal is to come up with compromises during the month of May," he said.