Rauner puts pressure on Democrats for budget deal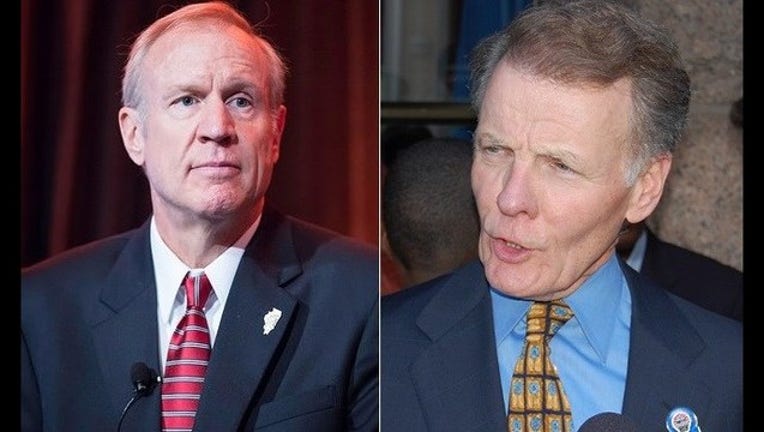 article
OAK LAWN, Ill. (AP) — Gov. Bruce Rauner sought Wednesday to ramp up pressure on majority Democrats over Illinois' unprecedented budget stalemate, repeating calls for lawmakers to work with him to pass legislation he says would save businesses and taxpayers money or approve a tax hike without his support.
"Time's up," the Republican said during a speech before a business group in suburban Chicago. "The longer the Legislature takes, the more people will suffer, the bigger the deficit will grow."
They were the most high-profile remarks in weeks from the first-year governor, who has remained largely out of the public eye as Illinois entered its fourth month without a spending plan. But the day's events seemed only to emphasize how entrenched both sides remain, with several lawmakers now openly speculating the standoff will last well into 2016.
Democratic House Speaker Michael Madigan said there was "no question" that the pain of the budget crisis is Rauner's fault because he vetoed most of a spending plan Democrats sent him in May. That budget called for spending about $4 billion more than anticipated revenue.
Madigan also reiterated Democrats' position that Rauner's agenda, which includes allowing local governments to opt out of collective bargaining with public-employee unions over issues such as wages and benefits, would hurt working people and Illinois' most vulnerable residents.
"I've stated all year that I will work with the governor cooperatively and professionally, but we will not devastate Illinois' middle class and struggling families by furthering an agenda aimed at driving down their wages and their standard of living," the Chicago Democrat said in an emailed statement.
The lack of a state budget already has meant severe cuts to social service programs such as subsidized day care and shelters for domestic violence victims. It also has university presidents and students worried about how to pay the bills come second semester and local governments and human service agencies laying off staff.
Democrats want to balance the budget with a mix of spending cuts and tax increases. Rauner has said he's open to raising taxes, but only if Democrats agree to pass some of his pro-business agenda, which he says is necessary to improve Illinois' economy.
Among the other priorities he's seeking are a property tax freeze, term limits for lawmakers and changes to workers' compensation insurance to make it less costly for employers but more difficult for injured workers to get payments.
If Rauner doesn't get some of what he wants, he says Democrats have enough seats in both the House and Senate to pass a tax increase and override his veto.
Not all Democrats are likely to vote in lock-step to support a tax increase, so they aren't likely to head into the 2016 elections as the only party to have supported a hike.
Rauner also argues he's already compromised by dropping some items he was pushing earlier this year, such as letting local communities create so-called "right-to-work zones" where union membership would be voluntary. And he notes that Democrats in Illinois and elsewhere have previously backed changes to collective bargaining, even though labor unions are among their most staunch supporters.
Madigan, however, insists budget negotiations shouldn't be tied to Rauner's agenda.
Rauner told The Associated Press last week the impasse "could go on for a while." On Wednesday, House GOP Leader Jim Durkin said it could take four months or more to get a deal unless Democrats are willing to budge.
"We're stuck," Durkin said.