Suburban Chicago nurse pleads guilty to stealing morphine from patients
CHICAGO - A suburban Chicago nurse has pleaded guilty to tampering with medications intended for patients under her care.
Sarah Diamond, 30, of Woodstock, appeared in federal court Tuesday where she entered a guilty plea on one count of tampering with a consumer product, according to the U.S. Attorney's Office for the Northern District of Illinois.
Diamond was the Assistant Director of Nursing at a Chicago-area rehabilitation center where her responsibilities included dispensing medication to patients, prosecutors said.
Between July and August 2021, prosecutors said Diamond removed morphine from bottles prescribed to patients and replaced it with another liquid, knowing the diluted substance would be given to the patents.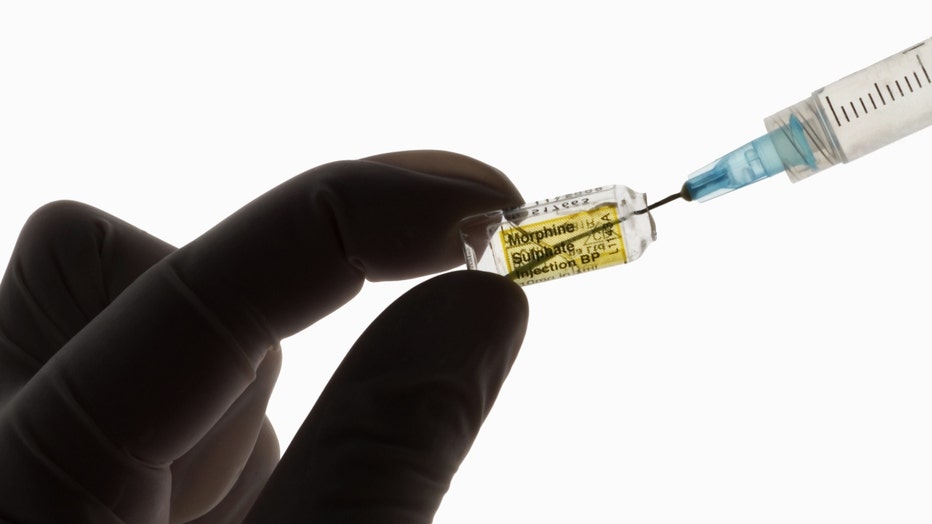 Gloved hand holding 10mg liquid morphine sulphate glass vial and syringe. (Universal Images Group via Getty Images / Getty Images)
In one instance, Diamond diluted a bottle of morphine so that it only contained about 26% of the drug's declared amount. In a second incident, prosecutors said she diluted a bottle of the drug so that it only contained about 53% of the declared amount.
SUBSCRIBE TO FOX 32 ON YOUTUBE
Prosecutors said Diamond then gave patients shots of the diluted liquid morphine, and kept the rest of the pain medication for her own personal use.
"Diamond removed the morphine with reckless disregard and extreme indifference for the risk that the patients would be placed in danger of bodily injury," the U.S. attorney's office said in a statement.
In total, prosecutors said Diamond took liquid morphine from at least five different patients, who had been prescribed the drug to manage their pain.
A sentencing date for Diamond has not been scheduled. If convicted, she faces up to a maximum of 10 years in federal prison.