Supt. Johnson still weighing whether to punish 4 Laquan cops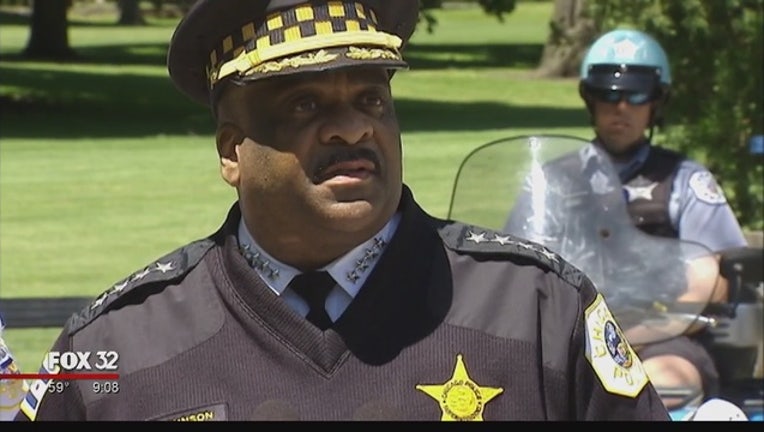 article
CHICAGO (SUN TIMES MEDIA WIRE) - Chicago Police Supt. Eddie Johnson has moved to fire only five of the 15 officers recommended for discipline for allegedly covering up or bungling the investigation into the Laquan McDonald shooting, but Johnson is still weighing discipline against four of those cops, a new court filing reveals.
The fact that Johnson is still considering punishing some of the officers who witnessed the 2014 shooting is contained in a Dec. 8 lawsuit filed by city Inspector General Joseph Ferguson, who is attempting to force Anthony Wojcik, a former police lieutenant involved in the case, to provide testimony to him and his staff, the Chicago Sun-Times is reporting.
"To date, OIG has issued findings and disciplinary recommendations respecting 15 sworn members of CPD," the lawsuit states.
Based on those recommendations, Johnson moved to fire five of those cops — including Officer Jason Van Dyke, who shot McDonald 16 times as the teen appeared to be walking away from him — and is now charged with murder. Their cases are pending before the Chicago Police Board.
However, "The Superintendent disagreed with OIG's findings and disciplinary recommendation respecting one officer and permitted five of fifteen to resign or retire prior to formal action on OIG's findings and discharge recommendations," the lawsuit goes on to say. "Formal action on OIG findings and recommendations respecting the other four sworn members is pending with the Superintendent."
It was unclear Thursday night if those four still had full police power. Police spokesman Anthony Guglielmi did not respond to questions seeking clarification on that issue.
Ferguson's lawsuit asks a Cook County judge to order Wojcik to comply with a subpoena the inspector general issued as part of its investigation into whether police officers attempted to cover for Van Dyke. A special prosecutor also is now investigating the matter.
The inspector general began his investigation of the McDonald case in December 2015, and Wojcik retired from the police force in May 2016. Wojcik has refused to comply with the subpoena on the grounds that he is no longer a city employee.
According to the filing, "Wojcik directly and actively supervised the lead detective assigned to CPD's investigation of the Laquan McDonald incident." Neither he nor his lawyer could be reached for comment late Thursday.
The revelation that Johnson is still considering four cops for discipline in the McDonald case came as the Chicago Tribune reported that Johnson, then a top police official under former Supt. Garry McCarthy, was among a group of officers in 2014 who viewed video of the shooting and saw no violations of department policy.
"Everyone agreed that Officer Van Dyke used the force necessary to eliminate the threat, and that's pretty much it," Lt. Osvaldo Valdez told investigators, according to the Tribune.
Guglielmi said late Thursday that Johnson "strongly disagrees with the characterization of the briefing."
After seeing the video, Guglielmi noted that McCarthy stripped Van Dyke of his police powers and referred the case to Scott Ando, then-executive director of Independent Police Review Authority, which investigates police-involved shootings. Van Dyke remained on the police payroll until his indictment.
"When the Laquan McDonald case was presented to the Superintendent, he took decisive steps to seek separation for several officers involved," Guglielmi said.