Syracuse University pulls 'kiss cam' after complaint about forced affection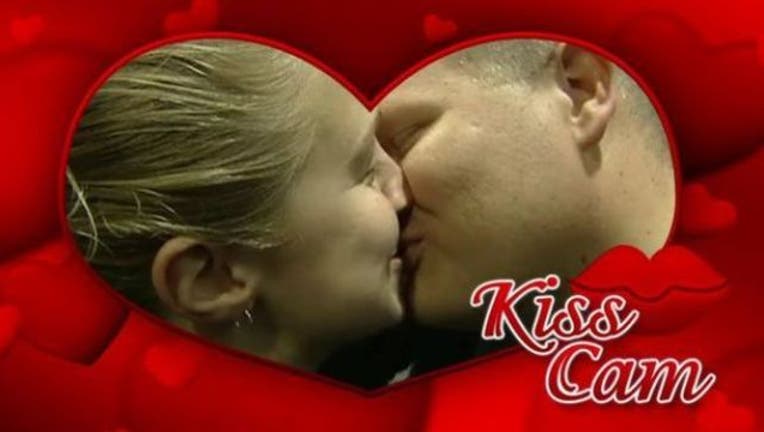 article
(AP) - Syracuse University is considering kissing its kiss cam goodbye after a fan suggested it sends the wrong message at a time when colleges are fighting against campus sexual violence.
A regular feature at sports venues, the kiss cam frames unsuspecting couples in a heart on the Jumbotron while the game crowd cheers for them to kiss. Hearts melted when cancer-stricken former President Jimmy Carter and wife Rosalynn obliged during an Atlanta Braves game last week.
But Steve Port of Manlius said what he saw during the Sept. 12 football game between Syracuse University and Wake Forest constituted unacceptable behavior, and maybe even assault, as men forcibly kissed women who were clearly saying no.
In one of two examples, he said a woman's head shake was met with "no less than six sets of hands from the seats around her shov(ing) her unwilling face into his." The crowd cheered, he wrote in a letter to the editor, which generated hundreds of comments on Syracuse.com, both agreeing and disagreeing with him.
"Honestly, I wasn't out to kill the kiss cam," Port said by phone Tuesday. "I was just out to raise an important issue that I saw happening and that's important to me. I've always kind of been a little put off by it anyway, but never witnessed an actual act of — oh, my God, this woman is saying no and it didn't matter."
The kiss cam feature was pulled from Saturday's game against Central Michigan University, Sue Edson, a Syracuse University athletics spokeswoman, said.
"We are taking the time to assess the concerns expressed in the letter to the editor," she said.
Syracuse University senior Elaina Crockett suggested the university poll students on whether to keep the feature or come up with some kiss cam rules, including moving on quickly if someone obviously doesn't want to play along.
Crockett, who writes a column about gender and sexuality for The Daily Orange student newspaper, said that otherwise it's counter to today's emphasis on affirmative consent that stresses communication and respect for boundaries as a way to reduce campus sexual assaults.
"Just because I'm sitting somewhere doesn't mean that I'm entitled to kiss this stranger. That's a horrible assumption that we've created," she said by phone.
The university isn't the only venue rethinking its kiss cam. The New York Mets last week apologized and said they would stop showing two opposing players inside the heart as a joke after some fans complained it was offensive to gay people.
''While intended to be lighthearted, we unintentionally offended some," the Mets said in a statement. "Our organization is wholly supportive of fostering an inclusive and respectful environment at games."