Trump offers full support for embattled Republican Roy Moore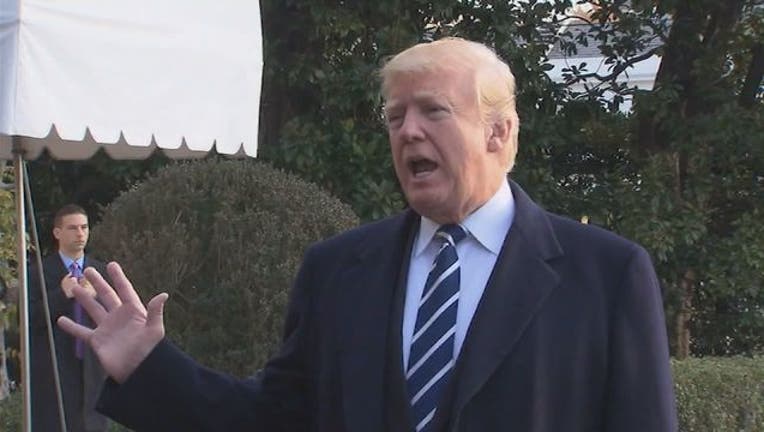 article
WASHINGTON - (AP) -- President Donald Trump endorsed embattled Republican Roy Moore in the Alabama Senate race on Monday, looking past sexual misconduct allegations against the GOP candidate to argue that his vote is needed in Congress.
Trump tweeted early Monday that "Democrats refusal to give even one vote for massive Tax Cuts is why we need Republican Roy Moore to win in Alabama."
It was Trump's strongest show of support for Moore since allegations surfaced that the candidate had sexually assaulted teenage girls decades ago, including one who said he molested her when she was 14 and he was in his 30s. Many national Republicans have called on Moore to step aside in the wake of multiple sexual assault and harassment allegations.
Shortly after Trump's tweet, Moore responded on Twitter: "Thankful for President Trump's support. The America First agenda will (hash)MAGA. Can't wait to help him (hash)DrainTheSwamp."
Trump also had assailed Moore's Democratic rival Doug Jones, tweeting that "Putting a Pelosi/Schumer Liberal Puppet Jones into office in Alabama would hurt our great Republican Agenda of low on taxes, tough on crime, strong on military and borders...& so much more."
Trump for weeks was silent after the allegations against Moore surfaced, and the White House has said he had no plans to make campaign appearances before the Dec. 12 election. But Trump in recent days has raised doubts about the allegations against Moore, and he has agreed to headline a campaign-style rally in Pensacola, Florida -- less than 20 miles from the Alabama border -- just four days before the Alabama election.
And Trump tweeted of Moore on Monday: "We need his vote on stopping crime, illegal immigration, Border Wall, Military, Pro Life, V.A., Judges 2nd Amendment and more. No to Jones, a Pelosi/Schumer Puppet!"
White House legislative director Marc Short told CNN that Trump was "making the case to the people of Alabama that it's a factor to consider that not one Democrat has been able to find time to say they support" the GOP tax plan.
Short said Trump's point is that "when allegations arise 38 years later, when Roy Moore has been a very public figure for those 38 years, he's run multiple times statewide in Alabama, the people in Alabama have an opportunity to choose and make some decisions about Roy Moore's character. Putting all that together, he's encouraging the people of Alabama to make the right decision."
© 2017 The Associated Press. All rights reserved. This material may not be published, broadcast, rewritten or redistributed.