TSA discovers fewer guns at Chicago airports in 2022, nationwide is a different story
CHICAGO - The Transportation Security Administration (TSA) detected fewer firearms at Chicago's airports in 2022 than it did the previous year.
According to the TSA, the agency stopped 85 handguns at O'Hare Airport last year, and 38 at Midway — a decrease for both airports compared to 2021.
Passengers at O'Hare and Midway brought firearms less frequently than the national average.
Nationwide, TSA officers detected 6,542 firearms (88% were loaded) at 262 different airports in 2022, which surpasses the previous record of 5,972 in 2021.
SUBSCRIBE TO FOX 32 CHICAGO ON YOUTUBE
"Bringing a firearm to the checkpoint is an expensive, dangerous mistake that far too many people are making," Illinois TSA Federal Security Director Dereck Starks said in a statement. "Our TSA officers are doing a fantastic job preventing weapons from making their way onboard to aircraft, but the responsibility falls to passengers to pack smart and keep prohibited items out of their baggage."
Across the country, O'Hare was the third-busiest airport in 2022 for security checkpoint operations. TSA officers screened nearly 26 million departing passengers and crew. One firearm was discovered for every 304,575 travelers screened, according to the TSA.
At Midway, 6.5 million passengers and crew were screened in 2022. One firearm was discovered for every 170,915 travelers screened.
Nationwide, one firearm was discovered for every 116,394 travelers screened.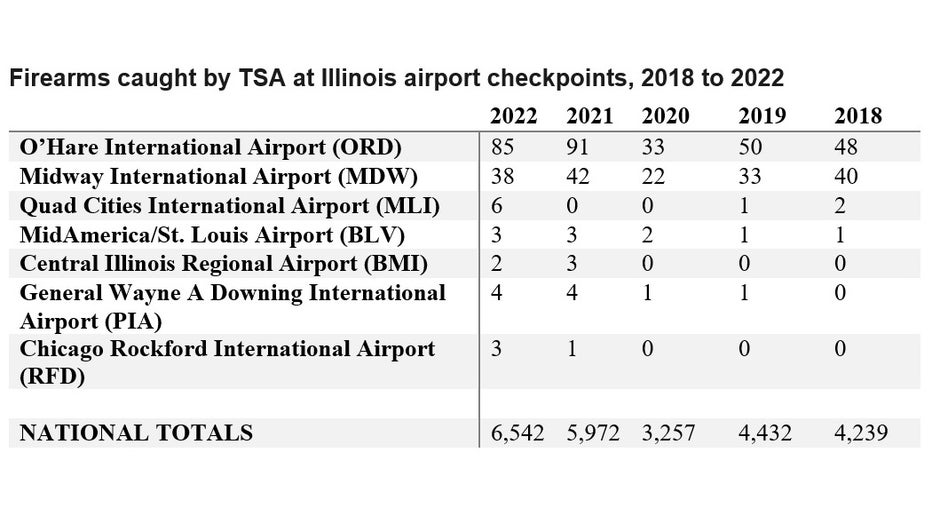 Firearm possession laws vary by state and local government, but firearms are never allowed in carry-on bags at any TSA security checkpoint, even if a passenger has a concealed weapon permit.
LIST: Top 10 airports for firearm confiscation
Hartsfield-Jackson Atlanta International Airport: 448
Dallas Fort Worth International Airport: 385
George Bush Intercontinental Airport: 298
Nashville International Airport: 213
Phoenix Sky Harbor International Airport: 196
Orlando International Airport: 162
Denver International Airport: 156
Austin-Bergstrom International Airport: 150
Fort Lauderdale-Hollywood International Airport: 134
Tampa International Airport: 131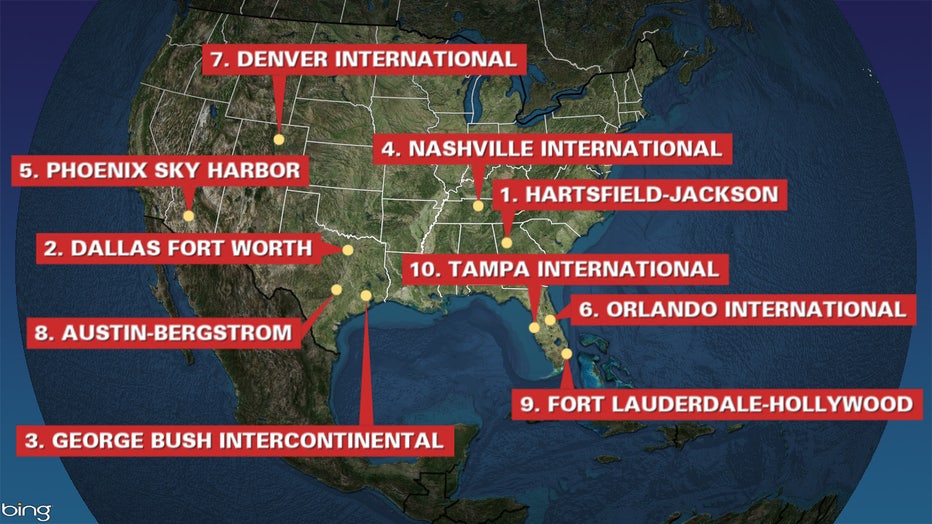 TSA increases penalty for firearms violation
In hopes of reducing the threat of firearms at checkpoints, TSA has increased the maximum civil penalty for a firearms violation to nearly $14,950 in 2023. 
TSA notes it will continue to revoke TSA PreCheck eligibility for at least five years for passengers caught with a firearm in their possession. In addition, the agency may conduct enhanced screening for those passengers to ensure no other threats are present.
Depending on state or local law in the airport's location, passengers who bring firearms to a checkpoint may be arrested by law enforcement.
Passengers traveling by air who wish to transport firearms must do so in checked baggage. Those passengers must follow proper packing guidance for firearms in checked baggage and declare them to their airline at check-in.
Fox TV Stations contributed to this report.