U of Illinois, Northwestern, U of Chicago decry travel ban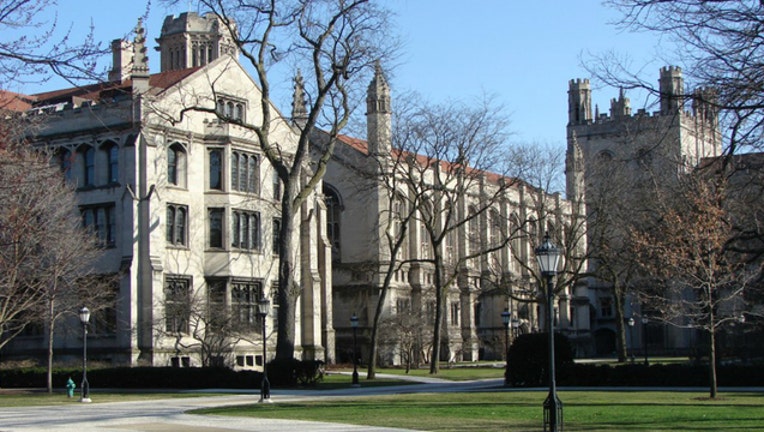 article
SUN-TIMES MEDIA WIRE - On the first class day after a travel ban took effect barring citizens of seven Muslim-majority countries from entering or returning to the United States, Chicago's universities reassured their international and immigrant students and faculty that their campuses stood behind them, the Chicago Sun-Times is reporting.
But at least four schools — Northwestern University in Evanston and three University of Illinois campuses — have also warned their instructors and students from those countries against leaving the United States.
"We are greatly concerned about the negative consequences for members of our community and their families arising from President Trump's recent executive order instituting changes in immigration policy," five top University of Illinois officials wrote to students and staffers Monday.
"Because of the entry restrictions cited in the new executive order, we strongly recommend that students and scholars who might be affected defer travel outside the U.S. until there is fuller assessment of the executive order and its implementation, including resolution of several newly mounted legal challenges."
Enforcement of that order, signed Friday by President Donald Trump, began Saturday, including at O'Hare airport. Anyone from seven Muslim-majority countries deemed to be terrorism threats to the United States are barred from entering the country: citizens of Iraq, Iran, Libya, Somalia, Sudan and Yemen are banned for 90 days; anyone from war-torn Syria is banned indefinitely.
Eighteen people were detained at O'Hare Saturday before a federal judge in Brooklyn temporarily struck down parts of the order and allowed anyone holding a valid visa or already in the country or in transit to enter. The Trump administration since has clarified that legal permanent residents who hold green cards will be admitted back into the country.
Among those held in Chicago were a Park Ridge couple who teach at Oakton Community College, along with their 6-month-old son. The husband, Hessameddin Noorian, who has a green card, told the Sun-Times he and his family were returning home from visiting relatives in Iran.
Nationwide, there were more than 17,000 students from the seven countries at U.S. colleges and universities during the 2015-16 academic year, with 12,269 of them from Iran alone, according to the New York-based Institute of International Education.
The financial impact of international students is considerable. The Institute of International Education says, "Seventy-two percent of all international students receive the majority of their funds from sources outside of the United States, including personal and family sources, as well as assistance from their home country governments or universities."
At the University of Illinois' three campuses, "more than 300 students" and faculty come from the affected countries, according to a spokesman. He said he could not provide exact numbers for each campus, but that figure should include 165 students and 19 research scholars, faculty or staff at the University of Illinois at Chicago, a spokeswoman for UIC said.
Loyola University President Jo Ann Rooney wrote that "Xenophobia or other forms of discrimination can have no place at Loyola or our larger community. We cannot allow fear, anger, or impulsiveness to diminish our embrace of the free pursuit of knowledge in order to build a just society."
Of Loyola's 16,000 or so students enrolled, almost 1,000 come from countries outside the United States, according to the university's press office, which wouldn't comment on how many faculty members might be affected.
The University of Chicago is offering sessions for affected students and scholars with experts on immigration law, though a spokesman couldn't immediately provide a number. The South Side school hosted a political theory workshop at lunchtime Monday where a law professor planned to "discuss how the order directly and indirectly affects students."
In a letter to students, university president Robert J. Zimmer wrote to "affirm, in the strongest terms, the commitment of the University of Chicago to our international students, faculty, scholars and staff . . . "
Zimmer and school Provost Daniel Diermeier also addressed concerns directly to Trump, writing in a letter they sent to the White House that "we understand that the motivation for recent actions concerning immigration has been a concern for national security and the threat of terrorism. . . . But we strongly urge that the methods . . . be examined and thought through carefully, so that the many people who can add to much to the country through immigration have the opportunity to do so."
Moraine Valley Community College in Palos Hills — a southwest suburb home to many Middle Eastern immigrants — said that 38 of its approximately 15,000 students hail from one of the seven countries. That's about 10 percent of the college's international students. A spokeswoman said the college's executive leadership team will discuss the ban Tuesday in a closed meeting and will unveil its plans afterwards.
Northwestern University president Morton Shapiro promised that NU would "refuse to provide information to the federal government" about staffer or student immigration status, writing, "I assure you that we will take the necessary actions to protect the students, faculty and staff."