Vallas sues consultant who allegedly defrauded campaign out of $680,000
CHICAGO - Former mayoral candidate Paul Vallas filed a lawsuit Thursday accusing a consultant of defrauding his campaign out of hundreds of thousands of dollars that he allegedly falsely claimed was spent on get-out-the-vote efforts in Black communities which the former public schools chief ultimately lost.
The suit, filed in Cook County Circuit Court, alleges that Chimaobi Enyia told the campaign that he had effectively been given a "blank check" for $700,000 to do campaign work in those communities ahead of the mayoral runoff on April. Enyia was allegedly unable to account for $680,000 he received over a series of payments, and the Vallas campaign is now pushing to recoup all the money Enyia was paid.
The first sign that something was amiss came when Vallas' campaign filed its latest financial disclosure Monday showing that $480,000 of the $500,000 in payments to Enyia's company, Ikoro LLC, were being "disputed." Another contested payment for $200,000 came on April 3, after that reporting period had ended, according to the suit.
SUBSCRIBE TO FOX 32 CHICAGO ON YOUTUBE
In a statement, Vallas said he was "disappointed in the outcome of a hard-fought campaign" but didn't address the damning allegations directly.
"During an independent review of the Vallas for Mayor raise and spend, and as we prepared to file our report with the Illinois State Board of Elections, we flagged a pattern of payments to a vendor which are not in dispute," he said.
Enyia didn't respond to requests for comment. He is the brother of Amara Enyia, who ran her own failed campaign for mayor in 2019 with backing from Chancelor Bennett, better known as Chance the Rapper.
A series of allegedly fraudulent payments
As the former executive director of the Illinois Liquor Control Commission, Chimaobi Enyia claimed he had crucial connections within the African American community and would "get Vallas access to Black churches, organizations and individuals who would be willing to do campaign work," according to the suit.
After traveling with Vallas to the South and West sides in early March and introducing the candidate to faith leaders, congregations and community organizations, Enyia approached Vallas about working as a campaign consultant or strategist, the lawsuit states.
Enyia then requested that Vallas' campaign manager, Brian Towne, pay him $40,000 a month for work in March and April, according to the suit. Vallas felt that amount was "excessive" but agreed to spend half that over the same period, leaving Towne to cut the first $20,000 check on March 20.
Towne and veteran campaign consultant Joe Trippi acknowledged Vallas' path to victory relied, in part, on Vallas' ability to win at least 30% of the Black vote and minimize Black turnout. Though Vallas received endorsements from veteran Black alderpersons, that goal was ultimately far out of reach.
Amid the push for Black votes, Enyia "devised a plan" to submit invoices and earn more campaign money for "fabricated" consulting work he was never contracted for, the suit states.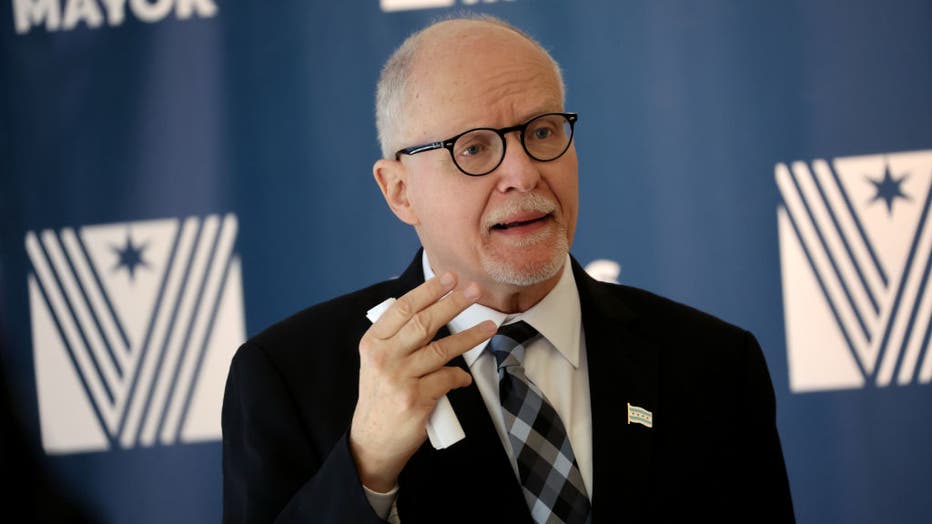 CHICAGO, ILLINOIS - MARCH 07: Chicago mayoral candidate Paul Vallas holds a press conference to announce an endorsement by former high school principal Dr. Joyce Kenner on March 07, 2023 in Chicago, Illinois. Vallas, a former Chicago Public Schools C
In four payments between March 20 and April 3, Enyia allegedly collected $680,000 that he claimed was for consulting, putting up Vallas signs in Black neighborhoods and removing others that were vandalized and tied the candidate to former President Donald Trump.
Enyia repeatedly pressured a campaign worker named Peter Jeon to cut the checks, going as far as warning that the purported campaign workers he was paying were going to jump ship and start working for Mayor-elect Brandon Johnson, according to the suit. While Towne isn't accused of any wrongdoing, the suit says he directed Jeon to make the payments.
Vallas discovered the first contested payment on April 10 as he was reviewing his campaign finances, according to the lawsuit.
During a phone conversation, Vallas allegedly pressured Enyia to show how that first $200,000 was spent and to return the money. Enyia, in turn, "became irate," insisted "that there were no receipts" and refused to turn over the money. He also failed to mention the other payments, the suit states.
But the following day, Vallas found the other invoices and confronted Enyia again. That's when Enyia allegedly told him that $200,000 had been spent to contract workers to put up campaign signs in Black neighborhoods.
Enyia claimed he had contracted the Chicago chapter of a national community service organization called Black Men United to put up signs in Black neighborhoods. But Rev. John Harrell, the group's founder and president, told the Sun-Times that Black Men United "didn't receive anything" from the Vallas campaign and said the work was actually done by another organization.
Vallas demanded an accounting of that payment and the others, but Enyia "repeatedly stated that he could not and would not provide any documents," according to the suit. He also refused to turn over the full $680,000.
On April 17, the campaign sent a written demand for an accounting of how the $680,000 in payments was spent and for Enyia to return all the money he was paid by the campaign. That same day, Enyia allegedly told the campaign "the $700,000 was a 'blank' check and he could do whatever he wanted" with it.
The suit accuses Enyia of fraud, unjust enrichment and breach of contract and calls for restitution of all the money, plus an award of prejudgment interest and the imposition of punitive damages, among other relief.
'I am gobsmacked'
Veteran Democratic strategist Tom Bowen said the level of fraudulent campaign spending alleged in Vallas' lawsuit is unprecedented and underscores how desperate Vallas was to make inroads into the Black community. It also shows how little oversight his campaign had over the $18 million avalanche of contributions that came pouring in from the business community after his first-place finish on Feb. 28, Bowen said.
"If he set $700,000 on fire with a very atypical campaign vendor to try to win votes in the Black community like that, that is possibly the stupidest thing anyone in Chicago politics has ever done," said Bowen, who served as a senior adviser to lame-duck Mayor Lori Lightfoot's campaign and as political director for former Mayor Rahm Emanuel in 2012.
Bowen said he's sure former Gov. Bruce Rauner and vanquished Republican gubernatorial candidate Darren Bailey "also wasted incredible amounts of money on services like that" in their failed attempts to make inroads into the African-American community.
But in a Chicago mayoral race, it's "unheard of" to spend that much money so unwisely, Bowen said. After running Lightfoot's 2019 runoff campaign, Bowen said he "understands the stress" of keeping close tabs on campaign spending when contributions come pouring in.
But if you have "basic competency at the fundraising and campaign management level," the money will be spent, only on entities "with reputations for delivering," he said.
"I am gobsmacked by that $700,000 total. That is ludicrous… It speaks to incompetence more than anything else by Paul. He's the candidate. And the people he trusted to run his campaign. Staff deserves to be held accountable. But, the ultimate guy calling the shots is the one whose name is on the ballot," Bowen said.