What will ending the COVID-19 emergency look like in the US?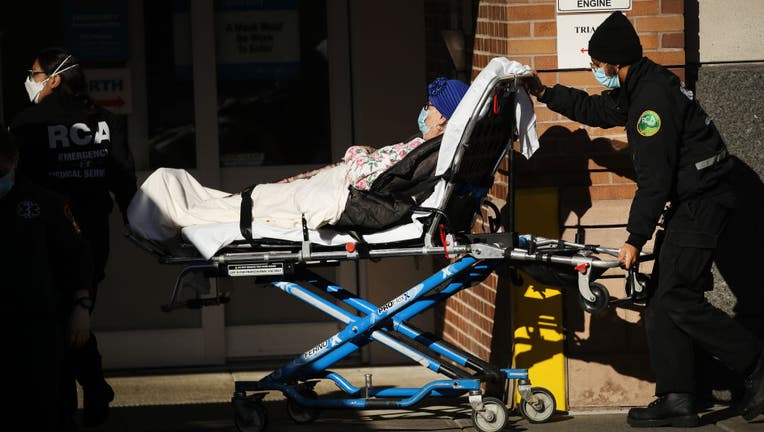 article
President Joe Biden informed Congress on Monday that he will end the twin national emergencies for addressing COVID-19 on May 11, as most of the world has returned closer to normalcy nearly three years after they were first declared.
The move to end the national emergency and public health emergency declarations would formally restructure the federal coronavirus response to treat the virus as an endemic threat to public health that can be managed through agencies' normal authorities.
Then-President Donald Trump first declared the COVID-19 pandemic a national emergency on March 13, 2020. The emergencies have been repeatedly extended by Biden since he took office in January 2021, and are set to expire in the coming months. The White House said Biden plans to extend them both briefly to end on May 11.
RELATED: President Biden to end country's COVID-19 emergencies on May 11
While Biden hasn't laid out details on what ending the emergency would look like, there is a glimpse based on measures that were passed during the emergency.
Many Americans can still receive COVID-19 vaccines for free
In 2020, emergency use authorization for the COVID-19 vaccines was given. Regulators allowed shots to be given to certain people while studies of safety and effectiveness are ongoing.
Trump in 2020 launched "Operation Warp Speed" which was his administration's effort to produce and distribute safe and effective vaccines for COVID-19.
With the ending of the emergency, the costs of COVID-19 vaccines are expected to skyrocket once the government stops buying them, with Pfizer saying it will charge as much as $130 per dose. Only 15% of Americans have received the recommended, updated booster that has been offered since last fall.
Many Americans with insurance will still be able to receive COVID-19 vaccinations for free, thanks to various federal laws. However, they could have some out-of-pocket costs, especially if they go to an out-of-network provider.
State Medicaid and Medicare will also continue to provide free vaccinations, but customers may be charged for out-of-pocket expenses for COVID-19 treatments. 
 
Private insurers may not cover COVID-19 testing
Starting in 2022, private health insurers were required to cover up to eight home COVID-19 tests per month for people on their plans.
Under the policy, Americans were able to either purchase home testing kits for free under their insurance or submit receipts for the tests for reimbursement, up to the monthly per-person limit. A family of four, for instance, could have been reimbursed for up to 32 tests per month. PCR tests and rapid tests ordered or administered by a health provider will continue to be fully covered by insurance with no limit.
Millions could lose Medicaid coverage
Medicaid, the state-federal health insurance program for low-income people, is covering about 79 million people, a record partly due to the pandemic.
RELATED: COVID remains a global health emergency, but nearing 'inflection' point: WHO
But the nonpartisan Urban Institute think tank estimates that about 15 million people could lose Medicaid when the public health emergency ends, at a rate of at least 1 million per month.
Congress increased federal Medicaid payments to states because of COVID-19, but it also required states to keep people on the rolls during the health emergency. In normal times, states routinely disenroll Medicaid recipients whose incomes rise beyond certain levels, or for other life changes affecting eligibility. That process will switch on again when the emergency ends, and some states are eager to move forward.
Virtually all of those losing Medicaid are expected to be eligible for some other source of coverage, either through employers, the Affordable Care Act or — for kids — the Children's Health Insurance Program.
Telehealth could also dwindle
Millions of Americans discovered telehealth in 2020 when COVID-19 shutdowns led to the suspension of routine medical consultations. In-person visits are again the norm, but telehealth has shown its usefulness and gained broader acceptance.
RELATED: Is the COVID-19 pandemic over? WHO to vote whether to end global health emergency declaration
The end of the public health emergency would jeopardize telehealth access for millions enrolled in traditional Medicare. Restrictions predating COVID-19 limit telehealth mainly to rural residents, in part to mitigate against health care fraud. Congress has given itself 151 days after the end of the public health emergency to come up with new rules.
COVI
A major exception applies to enrollees in private Medicare Advantage plans, which generally do cover telehealth. However, nearly 6 in 10 Medicare enrollees are in the traditional fee-for-service program.
Title 42 border policy could end
Since the pandemic began, the United States has been using a public health rule designed to limit the spread of disease to expel asylum-seekers on the southern border.
Title 42, as it's called, has been used more than 2.5 million times to expel migrants since March 2020, although that number includes people who repeatedly attempted to cross the border, according to the Associated Press.
RELATED: US health officials propose once-a-year COVID-19 vaccines for most Americans
The Supreme Court said in a ruling last year that it would keep Title 42 in place indefinitely. The case will be argued in February, and the stay will be maintained until the justices decide the case.
If it goes away, asylum-seekers will be interviewed by asylum officers who will determine if they have a "credible fear" of being persecuted in their home countries. If they're found to face a credible threat, they can stay in the U.S. until a final determination is made.
That can take years. Although some are detained while their asylum process plays out, the vast majority are freed into the U.S. with notices to appear in immigration court or report to immigration authorities.
The Associated Press contributed to this report. This story was reported from Los Angeles.