Why salad vending machines are becoming big business in Chicago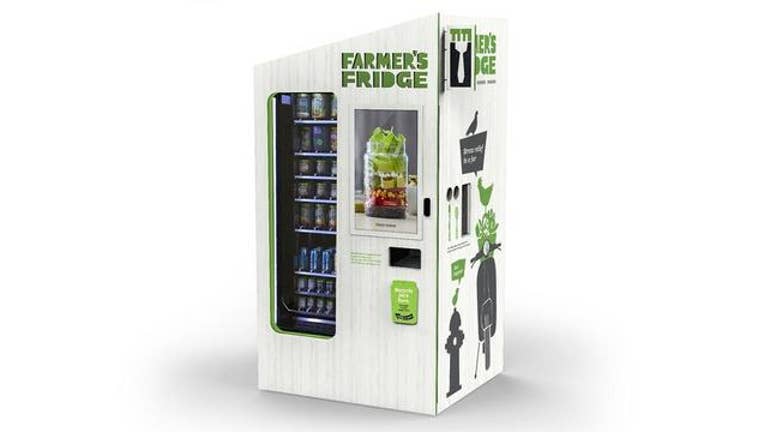 article
(FOXBusiness) - Forget candy bars, Chicago is all about putting leafy greens into its vending machines.
While traditional snack dispensers are known as a junk-food haven to many, in the Windy City they're known as a prime lunch spot.
Since 2013, more than 170 salad vending machines called Farmer's Fridge have popped up throughout the city in airports, universities, hospitals and shopping areas, all because a then-27-year-old sales representative says he could never find anything healthy to eat on the road.
"I was driving a thousand miles a week at one point and was thinking about how I could get fresh healthy food in more places, so I sort of backed into the idea of a vending machine as a way to have something that could sell food 24 hours a day," Luke Saunders, the founder and CEO of Farmer's Fridge, tells FOX Business.
Shortly after the initial idea, Saunders says he wrote a business plan and pitched it to his wife, who immediately told him to go for it.
"So I quit my job and I started working in the kitchen, and I started tinkering with vending machines on the side, and then I moved to Chicago and sort of went door to door trying to find a place to put it," he says.
In 2013, the first Farmer's Fridge prototype ended up in the "worst food court in the city," Saunders says.
"I say that objectively because it was bankrupt a year later, but it's the only place in the city that would take us so we did. It was just really about proof of concept, that we could really get customers to buy a fresh, healthy lunch from what was objectively a really fancy vending machine."
Saunders adds that he knows the "idea" of buying a healthy fresh salad from a vending machine seems questionable to most, especially with fears of food contamination. He has been conscious about growing his company too fast as a result.
"We have someone with a Ph.D. in food science with a specialty in food safety on site every day to ensure everyone is following protocols," he says.
Farmer's Fridge has also attracted the likes of big food investors like former McDonald's CEO Don Thompson and Danone Ventures, the venture capital arm of the Paris-based yogurt giant.
To date, Farmer's Fridge has sold one million salads through its fridges in Chicago and Milwaukee with plans to expand even more in 2019.
More on FoxNews.com.