With nurses in short supply, Elmhurst hospital putting robots to work
ELMHURST, Ill. - Years of the Covid-19 pandemic has left health care workers burned out and hospitals facing ongoing staffing shortages.
But one medical center in west suburban Elmhurst is using robotic nursing assistants to overcome its challenges.
Robots may not completely solve the nation's ongoing nursing shortage, but staff at Elmhurst Memorial Hospital say their two robot assistants have been lifesavers.
"They are working 24-7, with only a short period of time to charge in between. We would need at least six people to do that amount of work," said Hiral Patel, innovation director at Elmhurst Memorial Hospital.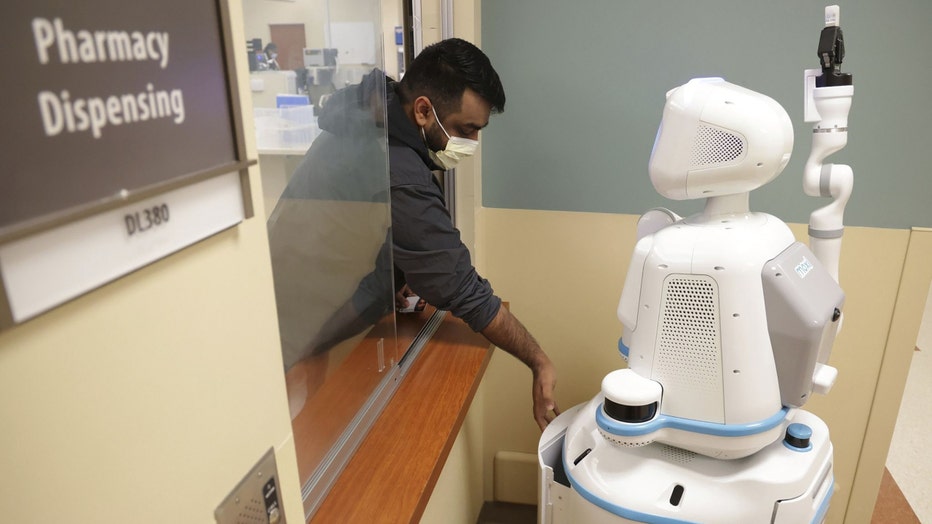 Aly Vishram, a pharmacy tech, places supplies in the drawer of Moxi the robot, one of two robots working at Elmhurst Hospital, on Dec. 1, 2022. Moxi will then take the supplies to the infusion center. (Stacey Wescott/Chicago Tribune/Tribune News Service via Getty Images / Getty Images)
The bots don't take care of patients. Instead, both devices -- named Moxi -- transport medicine and other supplies throughout the extensive facility.
"It leaves a lot more time for us to be able to focus on the patient," said Klaudia Talaska, registered nurse at Elmhurst Memorial Hospital.
The two robots make roughly 1,800 deliveries each month, racking up close to 1,000 miles worth of traveling around the hallways.
Over the course of six months, hospital officials say the robots saved staff members more than 3,100 hours.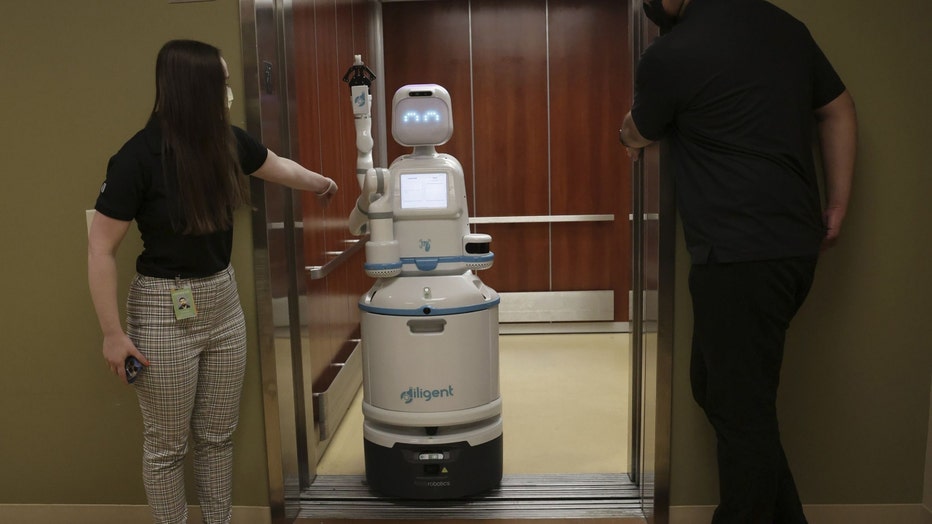 Nikki Metzger and Chris Delgado hold the elevator door for Moxi the robot as it delivers supplies at Elmhurst Hospital on Dec. 1, 2022. (Stacey Wescott/Chicago Tribune/Tribune News Service via Getty Images / Getty Images)
Diligent Robotics, the company behind the bots, says using technology isn't about replacing human workers.
Andrea Thomaz, CEO and co-founder of Diligent Robotics, said it's about making sure that available staff remain focused on what they need to be focused on.
SUBSCRIBE TO FOX 32 ON YOUTUBE
The rise of robot assistants comes as nurses across the country say they can't properly take care of their patients because there's simply too many, and too little staff.
Nurses at two New York City hospitals recently ended a three-day strike to address staffing shortages and working conditions.