Yankee outfielder who flipped over rail at White Sox ballpark suing Sox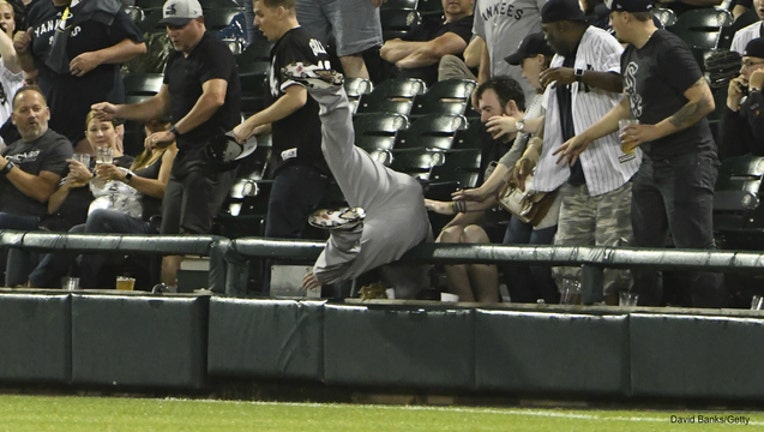 article
CHICAGO (Sun-Times Media Wire) - A Yankee outfielder who was seriously injured during his Major League debut at Guaranteed Rate Field last summer is suing the White Sox and the state agency that manages the ballpark.
Dustin Fowler's lawsuit, filed Friday, claims that the Sox and the agency were negligent in not securing the unpadded electrical box he collided with along the right field line during the June 29 game.
Fowler, then playing for the New York Yankees, crashed into the right field wall while chasing down a fly ball in foul territory. Fowler hit the low side of the wall at full speed, causing him to flip over. When he tried to stand up, he fell to the ground, prompting a gasp from the crowd.
The top-100 prospect, playing his first major league game, was sidelined for the rest of the season after emergency surgery at Rush University Medical Center.
The lawsuit, filed in Cook County Circuit Court, claims the White Sox and the Illinois Sports Facilities Authority acted negligently by not securing the metal box or taking precautions to prevent players from colliding with it. In addition, the suit alleges the White Sox and Sports Facilities Authority failed to adequately inspect the right field wall and the box. The box was installed at knee-level "in a manner so as to create a hidden and undetectable hazard" to Fowler and other ballplayers, the suit alleges. By failing to properly pad, guard or cover the exposed box, the defendants showed "an utter indifference to or conscious disregard" for Fowler's safety.
Both the Sox and the the agency knew of the unsafe condition and had ample time to improve them before the incident, the suit claims.
Representatives for the White Sox and the ISFA didn't immediately respond to requests for comment.
Fowler, traded to the Oakland Athletics in July, suffered "severe and permanent" internal and external injuries, as well as mental pain and anguish, according to the suit.
The lawsuit also claims Fowler had to spend "large sums of money" for medical care related to the injury.
Fowler is seeking an unspecified amount of money from the White Sox and the ISFA.