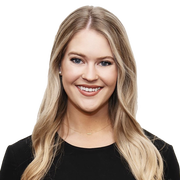 Cassie Carlson
Sports anchor and reporter
Cassie Carlson joined the FOX 32 sports team as an anchor and reporter in April 2022. Born and raised in Palatine, it's a dream for Cassie to be home and cover the teams that made her fall in love with sports.
Prior to joining FOX 32, Cassie spent two years at WMC in Memphis, Tennessee where she covered the Memphis Grizzlies from Ja Morant's rookie of the year campaign to the 2022 season finishing with the second-best record in the league. She also hosted the Penny Hardaway show where she gave an inside look into the Memphis Tigers number one recruiting class and All-NBA staff with hall of famer Larry Brown and NBA Champion Rasheed Wallace. Cassie also did sideline and play-by-play for ESPN+ broadcasts.
Cassie got her start as a sports reporter at FOX 34 in Lubbock, Texas. In Lubbock she followed Texas Tech football during the Kliff Kingsbury era. She also covered Red Raider basketball on their run to the national championship in 2019. High school football is huge in West Texas, and Cassie worked on a team to develop a football show that won an AP award for Best Sports Special. She was also a color analyst for women's volleyball and soccer on Fox Sports Southwest.
In her free time Cassie loves to find new coffee shops and restaurants in the Chicagoland area and is always looking for recommendations. You can follow Cassie on social media at @CassieCarlsonTV. Send story ideas to cassie.carlson@fox.com.