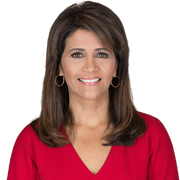 Sylvia Perez is a widely recognized and respected name in the Chicago news market. She's best known for looking beyond the headlines and reporting the personal and emotional sides of the major stories of the day.
Perez was a longtime anchor and medical reporter at WLS ABC7 before joining FOX 32 News in 2016. She also brings an expertise and interest in topics involving veterans. Reporting has always been in her blood. She credits her childhood as a military "brat," following her father around the world, with giving her the skills she needed.
"Asking a lot of questions and getting to know people quickly comes with the territory. You move so often you have to acquire these traits to make friends and fit in," Perez said.
She knew from the age of ten she wanted to be a reporter. While watching sportscaster Howard Cosell interview athletes during the Summer Olympics, she asked her brother what you had to study to get that job. His answer was "journalism" and from that day forward, her career path was sealed.
Perez attended the University of Oklahoma, majoring in Radio/TV/Film. In a bold, early move she chose an internship with a public television station versus the more typical network affiliate because public television, even then, was short staffed. Perez figured she was more likely to get real world experience and "air time." She was right. She covered State Capitol politics with stories appearing on the nightly news before she even graduated. That internship led to positions as a broadcast journalist in a variety of markets across the country, reporting on major stories involving politics, education, medicine and the military.
Soon, Perez began to specialize in stories that would have a direct, practical and positive impact on the individual viewer, a move that boosted ratings at a time television news was adapting to changes in how people were getting news and information.
Throughout her career, Perez has been recognized for her achievements with multiple awards, including Emmys and the Peter Lisagor award, recognizing the best of Chicago journalism given annually by the Chicago Headline Club.
More recently, she was recognized by the office of the Illinois Secretary of State for Excellence in Broadcasting commemorating Hispanic Heritage Month. Perez is generous with her time supporting several charities in the Chicago area. Her company, Sylvia Perez Productions, specializes in all aspects of event production for non-profits. She also sits on the board of Enabled Enterprises, an organization helping military veterans, serves as an ambassador for GoodCity Chicago, which champions inner-city entrepreneurs who give back to the city, and is a member of the National Association of Hispanic Journalists.
In her free time, Perez enjoys gourmet cooking and taking nature hikes on the many trails in and around Chicago.
The latest from Sylvia Perez