2 Chicago-area natives selected in first round of NFL Draft
CHICAGO - The lives of two local NFL hopefuls changed on Thursday night after they were selected in the First Round of the 2023 NFL Draft.
Dreams are coming true for Barrington native Lukas Van Ness, who was selected by the Green Bay Packers as the 13th overall pick.
Likewise, Park Ridge native Peter Skoronski received a life-changing phone call when he was selected as the 11th overall pick for the Tennessee Titans.
At Harp & Fiddle in Park Ridge where a watch party was held Thursday, the energy was electric when the Titans made their pick.  
The announcement brought the house down with Maine South football players ecstatic to see one of their former teammates heading to the big league.
Skoronski was a star for the Hawks, then went on to Northwestern to play as an offensive lineman.
SUBSCRIBE TO FOX 32 CHICAGO ON YOUTUBE
"This is extremely special for the community," said Alex Eng, Maine South High School senior and football player. "And then going to Northwestern, a local school, it was really awesome to see him, he's a huge inspiration for the community."
His grandfather, Bob Skoronski was a Green Bay Packers legend. Peter Skoronski, now following in his footsteps as he heads to the NFL.
Maine South students say they are thrilled to see Skornoski shine.  
"He's just a really great guy in general, we got pictures of him in the locker room, coach always told us, 'be like Peter, try and be like him,'" said Tommy Behzad, Maine South High School junior and football player.
"If there's anyone we could look up to from Maine South, it's him, not only obviously football with all of his achievements, but academically, he was valedictorian and graduated top 5 in the class," said Jack DeFilippis, Maine South High School junior and football player.
RELATED: Bears select Tennessee offensive tackle Darnell Wright
Meanwhile, Lukas Van Ness of Barrington is heading to Green Bay to play for the Packers!
The 21-year-old defensive end played two seasons for the Iowa Hawkeyes after redshirting his first year.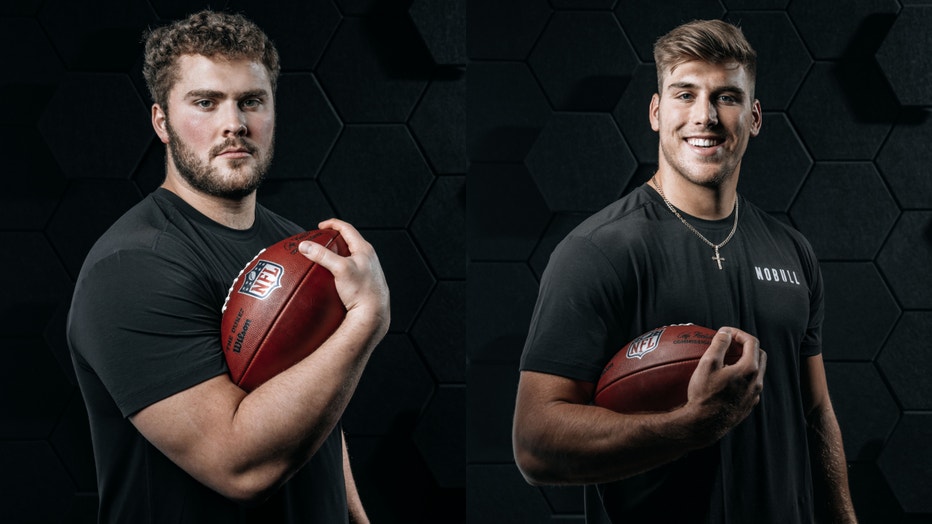 Peter Skoronski and Lukas Van Ness | Getty Images
The 2020 Barrington High School graduate was named Mid-Suburban League Conference Defensive Player of the Year and first-team all-conference as a senior.
Barrington High School's head football Joe Sanchez tells FOX 32 Chicago that Van Ness is an exemplary teammate and leader – both in uniform, and out.
"Anybody who decides to make him their first round pick, or whatever pick it may be, they're going to get an individual who is going to be tireless working, and play with a relentless effort and represent them on the field the way they're supposed to be, and more importantly represent them with class and character off the field," said Sanchez. "It's just a really proud moment. And just once again, it inspires kids in our community to see that anything's possible."