After busy offseason, Bears ready to see how pieces fit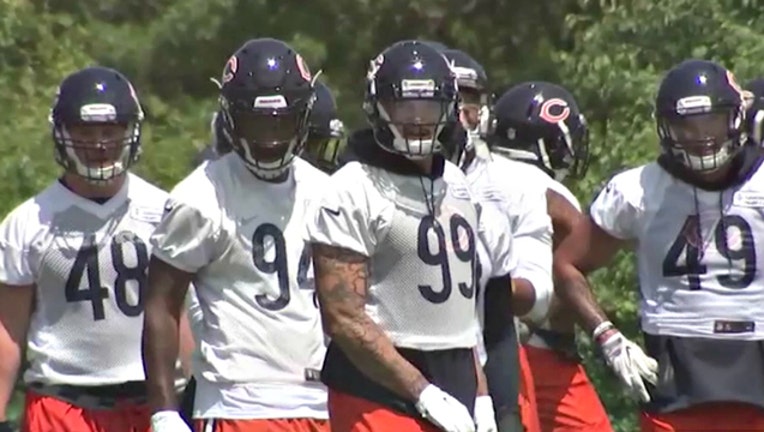 article
BOURBONNAIS, Ill. (AP) - The Chicago Bears made sweeping changes to lift a struggling franchise, and general manager Ryan Pace can't wait to see how it all comes together.
The next big step is here.
The Bears reported to camp Thursday looking for bigger things after a busy offseason.
"I'd say it's been aggressive," Pace said. "There's been a lot of work that's been done. It feels like it's gone by fast because of that. But it's very exciting and energizing. What's neat about it is how quickly this continuity has come together.
"There are a lot of new pieces with our support staff, with our coaches, with our players, and it's really neat to see how fast that's come together, even before we started training camp."
The team that takes the field Friday, when practices begin, will have a decidedly different look than the one that finished with five wins last season. There were big changes on the sideline, with the Bears hiring Nagy off Andy Reid's staff in Kansas City to replace the fired John Fox.
Besides bringing in an offensive-minded head coach, the Bears rebuilt a struggling receiving group to try to get the most out of prized quarterback Mitchell Trubisky. His development will obviously go a long way toward determining how soon Chicago ends a run of four straight last-place finishes in the NFC North and becomes a playoff contender. The Bears have made the postseason just one time since the 2006 team reached the Super Bowl.
It doesn't hurt that they're starting camp at just about full strength, though they might be without one notable player - rookie linebacker Roquan Smith. The No. 8 overall draft pick did not report Thursday and remained unsigned.
Pace seemed confident the impasse will end soon.
"This happens," he said. "This isn't necessarily abnormal around the league. It's happening. It is sometimes part of the process. We're very optimistic that he'll be here very soon."
One positive for Chicago: Nagy was not expecting any players to start camp on the physically unable to perform list. He said receiver Allen Robinson and guard Kyle Long should be "full speed ahead, good to go" after they were held back in offseason workouts because of injuries.
"The reason we did that was so they'd be ready to go now," Nagy said. "Now it's go time."
For them and the Bears. It's time see how everything comes together.
Fox's 14-34 record over three seasons gave him the second-worst winning percentage in franchise history. And the Bears are counting on a first-time head coach to help turn them around.
Nagy will be calling the plays, something he didn't do until late last season. But he has earned high marks for his work with quarterbacks, particularly Alex Smith.
"He brings a lot to the table," Trubisky said. "It's a group effort, everyone's bringing ideas together, but at the end of the day, it's Coach Nagy's offense and he's just adding details, he's a very detailed person. You can see his creativity every day, pretty much."
Trubisky envisions a more potent and creative offense. The training wheels are essentially off. It's a big change from where he was a year ago, when the Bears penciled him into a backup role, only to thrust him into the starting spot after Mike Glennon struggled through the first four games.
He also has some new playmaking targets, most notably Robinson. The Bears are banking on the talented receiver to regain the form that made him a Pro Bowl pick in 2015 and put aside the knee injury that sidelined him almost all of last season. Robinson tore the anterior cruciate ligament in his left knee on Jacksonville's third play of the season and had surgery the following week.
"I feel great. It's been a process that we've taken a little bit slower, but I think that was for the best," Robinson said. "It just was all about getting me ready for this time right here, so I feel great. I feel 100 percent and I'm ready to go."
___
For more AP NFL coverage: www.pro32.ap.org and www.twitter.com/AP_NFL