AP source: Chapman, Yankees reach deal for $86M, 5 years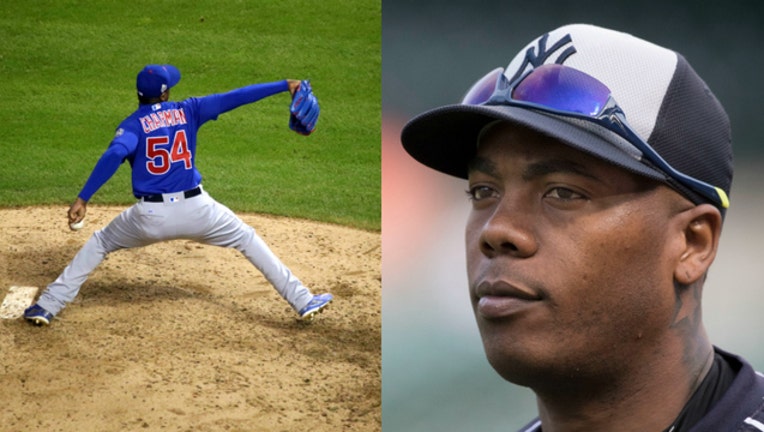 article
OXON HILL, Md. (AP) — Aroldis Chapman found a spot in a most familiar bullpen — a very rich spot, too.
The hard-throwing closer reached agreement to return to the New York Yankees on Wednesday night with the highest-priced contract ever for a relief pitcher, an $86 million deal for five years.
A person familiar with the negotiations told The Associated Press that the contract was pending a physical. The person spoke on condition of anonymity because the deal was not yet complete.
Once it's done, the 28-year-old lefty whose fastballs routinely top 100 mph would shatter the previous richest contract for a reliever — that was the $62 million, four-year deal Mark Melancon signed with San Francisco just a couple days ago during the winter meetings.
Chapman was acquired by New York from the Cincinnati Reds last offseason, then missed the first 29 games of the season due to a domestic violence suspension from Major League Baseball. The Cuban was traded to the Chicago Cubs in late July and helped them win the World Series, becoming a free agent when it was over.
Chapman went 4-1 with 36 saves and a 1.55 ERA in a combined 59 games for the Yankees and Cubs. He struggled some in the postseason as the Cubs beat Cleveland for their first championship since 1908.
With the Yankees this season, Chapman teamed with Andrew Miller and Dellin Betances in one of the most dominant bullpens in baseball history. Miller was later traded to Cleveland, but Betances is still with New York.
Earlier this week, Yankees general manager Brian Cashman said the team was interested in both Chapman and fellow free agent closer Kenley Jansen. The Yankees had already made one deal at these meetings, signing slugger Matt Holliday, before paying a lot more to bring Chapman back to the Bronx.
Fox Sports first reported the agreement.