AP source: Knicks, Noah agree to 4-year, $72M deal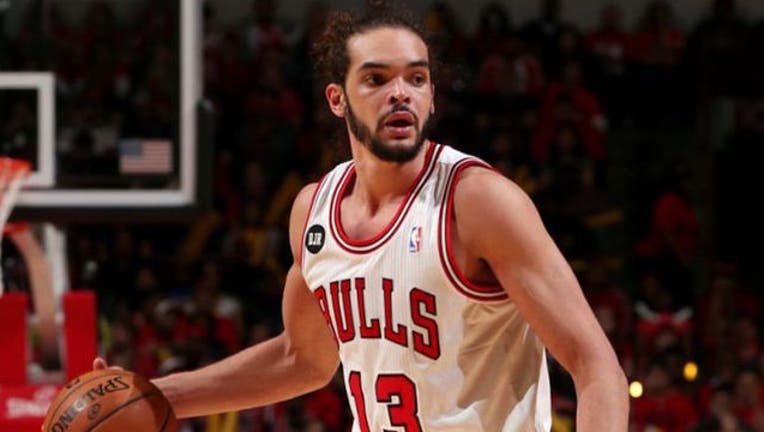 article
NEW YORK (AP) — First Derrick Rose, then Joakim Noah. The New York Knicks are hoping the road to their turnaround starts in Chicago.
Noah agreed to a four-year deal worth $72 million on Friday, returning to his hometown and joining his former Bulls teammate in New York, a person with knowledge of the details told The Associated Press.
The Knicks filled the center spot that opened when they dealt Robin Lopez to Chicago by turning to the versatile Noah, a New York native who has spent his entire career with the Bulls.
The person was granted anonymity because deals cannot be signed until July 7.
Noah battled injuries last season and was limited to a career-low 29 games, but Rose said he wanted his former teammate in New York with him after the Knicks acquired him from the Bulls last week. Noah made it clear that was his goal Friday when he posted a photo of himself on Instagram slipping on a Knicks hat.
Now he'll be slipping on their uniform.
Noah's excellent passing skills from the center spot could make him a perfect fit in the triangle offense, and his hard-nosed defensive play should make a fan favorite in New York, where he was born and later played in high school.
First he has to show last season was just a difficult one, and not a sign that the 31-year-old has slowed down. He lost his starting job in the first season since Fred Hoiberg replaced Tom Thibodeau, averaging a career-worst 4.3 points.
But the Knicks might not need much offense from the 2014 Defensive Player of the Year if Rose, Carmelo Anthony and Kristaps Porzingis remain healthy under new coach Jeff Hornacek. If they do, New York should easily be able to better its 32-50 finish of last season.
The Knicks are still looking for a shooting guard after Arron Afflalo opted to become a free agent.