Arrieta goes 6 innings for 11th win, Cubs beat Pirates 6-0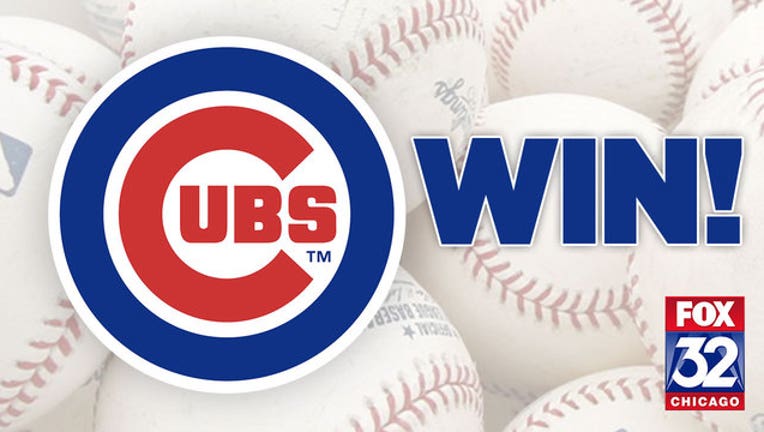 article
CHICAGO (AP) - Jake Arrieta came through with the big pitches just when it seemed his control was abandoning him and things were getting "out of whack."
Then, the Cubs broke away for another big win.
Arrieta pitched two-hit ball over six innings, Matt Szczur homered, Albert Almora Jr. had three hits and the Cubs beat the struggling Pittsburgh Pirates 6-0 on Friday.
Arrieta (11-1) struck out 11 and walked three as the Cubs started the weekend series on a strong note after dropping two of three at Washington.
He walked the bases loaded in the sixth before striking out David Freese and Matt Joyce to escape that jam. The Cubs then scored three in the bottom half to break open a 2-0 game.
"If I'm down in the strike zone, good things will happen," Arrieta said. "Got a little out of whack in the sixth but got back to just throwing in the zone down."
Szczur hit a two-run homer in the first inning on Francisco Liriano's second pitch of the game.
Almora had an RBI double in the sixth and drove in another with a single in the seventh. He raised his average to .429 in nine games since he was called up from the minors last week.
The Pirates fell below .500 at 33-34 with their eighth loss in nine games. They were shut out for the first time in a regular-season game since they lost to St. Louis on Sept. 28.
"We weren't able to convert the opportunities, and when you're facing an elite pitcher and you don't get him and you don't convert it usually doesn't end up well," manager Clint Hurdle said.
Arrieta, who blanked Pittsburgh in the National League wild-card game last fall, won his second straight start since his string of 20 consecutive regular-season winning decisions ended.
The only hits he allowed were back-to-back singles by Jordy Mercer and Chris Stewart in the third. The reigning NL Cy Young Award winner struck out the next three batters and wasn't threatened again until he walked three in a row with one out in the sixth.
Arrieta got out of that bases-loaded jam by striking out Freese after falling behind 3-0 in the count and catching Joyce looking at a 3-2 pitch on the inside part of the plate.
"He's so able to take a deep breath, step back and try to recalculate what's going on," manager Joe Maddon said. "Some guys get to that moment and it's just going to unravel."
Liriano (4-7) dropped his fourth straight start. The left-hander gave up four runs and six hits in 5 2/3 innings, struck out six and matched a season high with five walks. He hit Anthony Rizzo twice with fastballs, and he fell behind two pitches into his start.
"First couple pitches, you want to throw strikes," Liriano said. "They got me."
CERVELLI 'EMBARRASSED'
Pirates catcher Francisco Cervelli said he was embarrassed about getting injured shortly after a agreeing to a contract extension.
Speaking to reporters for the first time since he broke a bone in his left hand while swinging in a game on June 10, Cervelli said expects to get the soft cast removed Monday. He's out at least three more weeks. The injury came less than a month after he agreed to a three-year, $31 million deal through the 2019 season.
"It's a little bit of a nightmare," Cervelli said. "I feel a little embarrassed because of the confidence they showed me with the contract and everything."
TRAINER'S ROOM
Pirates: LF Starling Marte was out of the lineup for a second straight day because of bruising and swelling under his left eye. Marte has no vision problems. . C Chris Stewart started after missing two games with general soreness.
Cubs: 3B Kris Bryant was out of the lineup because of an illness. ... Theo Epstein, president of baseball operations, said Kyle Schwarber remains on schedule in his rehab from season-ending surgery in his left knee, and he reiterated the slugger will not play again this season. Schwarber was recently fitted with a new, less cumbersome brace. Epstein also said Schwarber sat in on the draft room while the team was away, helping the scouts and adding some levity.
UP NEXT
Cubs LHP Jon Lester (8-3, 1.89 ERA) looks to win his fifth straight start while the Pirates send LHP Jonathon Niese (6-3, 4.60) to the mound. Lester has not allowed an earned run in his past two outings.