Bears chairman says he has faith in Fox, GM after 3-13 year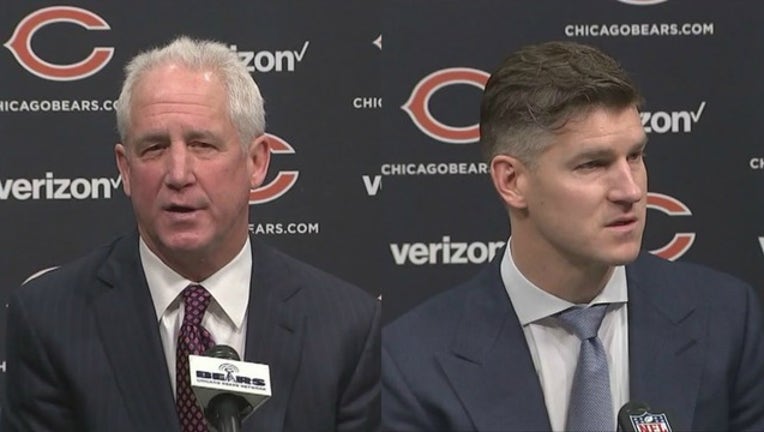 article
LAKE FOREST, Ill. (AP) — The chairman of the Chicago Bears insisted Wednesday he still has faith in coach John Fox and general manager Ryan Pace, even after the team's worst season in several decades.
Chairman George McCaskey said he is "pleased" with the job Pace has done the past two years.
"I'm not a patient person but I promised (Pace) that I would be patient," McCaskey said. "With all the adversity that we've had, I like the steady hand that he and John have had on the team."
The Bears went 3-13, matching their lowest win total in a non-strike season since the 1973 team finished 3-11. They also tied the franchise record for losses set in 1969 and wound up last in the NFC North for the third straight year.
Pace said no decision has been made about quarterback Jay Cutler's future. Fox, meanwhile, indicated defensive coordinator Vic Fangio and offensive coordinator Dowell Loggains will be back, saying, "Our coordinators are intact."
The Bears are trying to pick up the pieces after taking a big step back. Between poor play, a long line of injuries and four-game suspensions to receiver Alshon Jeffery and linebacker Jerrell Freeman for violating the league's performance-enhancing drugs policy, little went right.
"My promise to Bears fans, and I really mean this: there's not a moment that goes by that we're both not consumed with getting this right," said Pace, seated next to Fox. "This is unacceptable. It's painful to deal with. I get it. We're going to get better."
The Bears are 9-23 in two seasons since Pace and Fox replaced the fired GM Phil Emery and coach Marc Trestman. Did Pace consider a coaching change?
"I think some things happened this season that put major stress on the coaching staff and I get that," Pace said. "But for us to get better long term I think of a couple different things. I think it's developing our talent, and it's developing our culture and I think we're doing both of those things. So I know this season was hard, and I know there's a lot of lack of patience really around the league, but I believe we're headed in the right direction."
There are huge issues to address on the roster, none bigger than at quarterback.
It's not just about whether to retain Cutler. It's also about adding youth at the position after two drafts in which Pace did not pick a QB.
The 33-year-old Cutler was limited to five games because of a thumb injury and then a torn right labrum that led to him being placed on injured reserve. With no guaranteed money left on the seven-year extension he signed in 2014, he might be traded or released after eight seasons in Chicago.
The Bears could also deal for a young quarterback or draft one. Depending on who they land, they might need a veteran to hold down the position — be it Cutler, Brian Hoyer or someone from the outside.
"I understand the magnitude of that decision going forward," Pace said. "That's a critical, critical decision for me and this whole building."
Jeffery is another issue for the Bears.
He has an expiring contract again after playing for the $14.6 million franchise tag and a PED violation to go with an injury history. Jeffery did stay healthy after being limited to nine games last year. But was his good health because of the substance he was using?
"I saw how he worked and how he prepared and kind of where his focus has been and his mindset," Pace said.
Pace also insisted Kevin White can still be an explosive receiver even though he was limited to four games because of a fractured left fibula after missing his rookie year with a stress fracture in his left shin.
"This is 100 percent recoverable," he said.
But can the Bears recover?
Chicago has been to the playoffs just once since the 2006 team made the Super Bowl. There was a report last month that Hall of Fame executive Bill Polian could be brought in as a senior adviser to oversee the football operation. But the Bears said it is Pace's show, that the front office structure isn't changing.
McCaskey said he supports Pace and Fox and said so does his mom, Virginia McCaskey, the team matriarch and daughter of George Halas.
"She'll be 94 tomorrow," George McCaskey said. "She has outlived her dad, her mom, her only sibling, her husband and a son. She's had her share of heartache. But she is a remarkably resilient person. I tell people that she's tougher than her dad was. And those who know her don't disagree. This is hard for her. Every loss is painful. But she supports what we're doing. She's on board. Like every Bears fan, she wants more wins. And we intend to get them for her."
___
For more NFL coverage: http://www.pro32.ap.org and http://www.twitter.com/AP_NFL