Bears get Khalil Mack back for game with Lions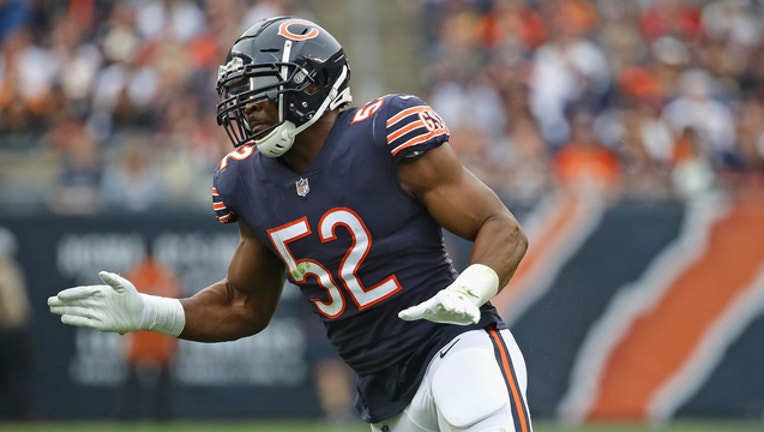 LAKE FOREST, Ill. (AP) - Khalil Mack will save some secrets for the Detroit Lions on Sunday at Soldier Field.
Asked if he would be 100 percent healthy or hindered by the sprained right ankle he suffered Oct. 14, the Chicago Bears' pass rusher smiled on Friday, but hedged.
"You want me to give up everything?" Mack said. "When I get there, I'm going to try to be myself."
If that means 100 percent healthy, it could be a problem for Lions quarterback Matthew Stafford -- especially after the Lions (3-5) gave up 10 sacks to the Minnesota Vikings last week.
Mack has been out two weeks but practiced Friday to complete three straight days of full work. He is not listed on Chicago's injury report and is expected to play.
Also expected to play is wide receiver Allen Robinson (groin), who was dropped from the injury list after completing Friday's practice.
"They're doing good right now and I like what I see," Bears coach Matt Nagy said. "So we've just got to continue to keep it in that direction. And if we do, then come game time, we'll be able to make a decision and feel good one way or the other."
Mack had five sacks in the first four games, then tried playing through the injury in two games before sitting and seeing his streak of 70 straight games come to an end.
"We know what we've got here and just understanding the situation, it was better for the team," Mack said. "So I bit my tongue and sat back and listened instead of trying to do too much in the situation.
"We got two wins and trying to make it three."
The victories made sitting somewhat easier to accept, but Mack did want to be a part of them.
"It was real tough for me, knowing the type of person that I am," Mack said. "But even then I'm excited to get out there this week."
The Bears (5-3) continued to play effective defense without Mack, who came over in a trade with Oakland just before the start of the season. They rank fifth overall and third against the run.
"I'm excited to come here and play with these guys, knowing that they have the talent that they have," Mack said. "Even without me, it's a hell of a thing.
"I'm excited to be a part of the party this week and get ready for Detroit."
Nagy likes how the team handled getting past the injuries to Mack and Robinson. Aaron Lynch moved into the lineup in place of Mack, while Taylor Gabriel and Anthony Miller stepped up as targets for Mitchell Trubisky.
"I think one of the things, you always want to have a contingency plan in case," Nagy said. "We've had a couple guys this year where we've had to deal with backups in certain cases, and I think our guys have done well. Having depth, that's important for any team in this league to be able to feel good with that going into it."
NOTES: Bears wide receiver Taylor Gabriel (knee) practiced Friday for the second straight day and is off the injury list, as well. Defensive end Bilal Nichols was limited in Friday's practice and goes in Sunday as questionable. ... The other personnel matter to be decided at game time for the Bears is whether to activate tight end Adam Shaheen from injured reserve after he went out in the preseason with a foot injury.