Bears' Miller undergoes emergency surgery to save leg after brutal injury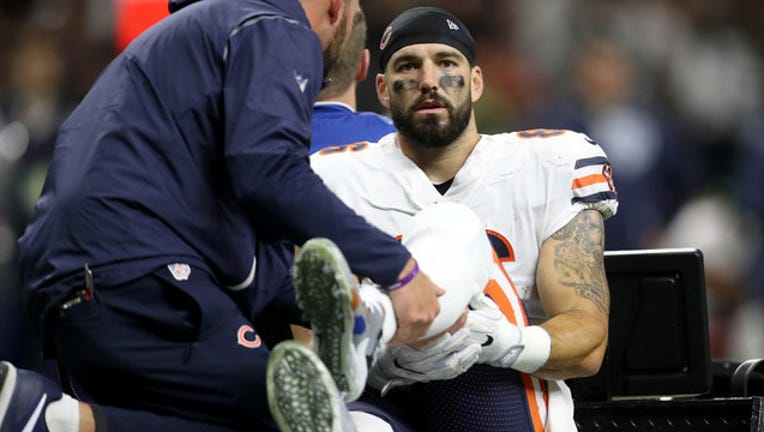 article
CHICAGO (FOX 32 News) - Chicago Bears tight end Zach Miller has undergone successful surgery following a gruesome dislocated left knee injury he sustained during Sunday's game against New Orleans.
Miller was rushed to University Medical Center New Orleans where urgent vascular surgery was performed to repair a torn popliteal artery.
"Successful surgery was performed immediately on Sunday by the UMC vascular surgeons to stabilize his injury," a statement from the Bears said. "Zach remains at UMC, along with Bears medical personnel, where he will stay under further evaluation."
Miller was trying to make a 25-yard TD catch when his left leg got bent in an unnatural position as he landed in the end zone at New Orleans. The injury was replayed several times on the scoreboard and officials overturned the potential touchdown catch, saying the ball came loose when the 33-year-old tight end crashed to the turf.
It appeared that Miller only let go of the ball on the ground because he was in pain.
"He'll be in our thoughts and prayers on our flight home," Bears coach John Fox said.
Miller suffered the latest in a long line of tough injuries. After making a career-high 47 catches in 2016, he missed the final six games with a fractured foot. He did not play in any game from 2012 through 2014, primarily due to foot and shoulder issues.
"It's a tremendous loss," Bears running back Tarik Cohen said. "He always gets us fired up and knows exactly what to say. We have to find ways to keep moving forward."
The Bears also lost two offensive linemen. Right guard Kyle Long left the game with a hand injury in the first quarter and center Cody Whitehair left later with an elbow injury.
The Associated Press contributed to this report.