Bears' Mitchell Trubisky selected NFC offensive player of the week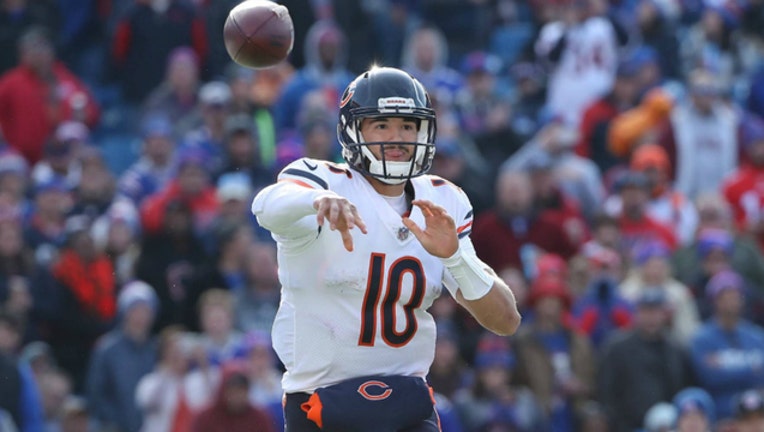 LAKE FOREST, Ill. (AP) - Chicago Bears quarterback Mitchell Trubisky seemed to care little Wednesday about being selected NFC offensive player of the week.
With the Bears clicking on offense at an elevated rate, Trubisky is too focused on improving some gaps of inconsistency in the attack to care about honors or criticism.
"It's cool, but people talked so bad about me last week, so why should this week be any different?" Trubisky said. "So I got recognized for playing well, I expect to play well. Coach Nagy expects me to play well.
"I got better from the week before, so I'm embracing that process, just continuously getting better and better."
The Bears (6-3) head into their showdown for first place in the NFC North on Sunday night at Soldier Field against the defending division champion Minnesota Vikings (5-3-1) surprisingly strong on both sides of the football, but still seeing obvious areas to improve.
And Matt Nagy would rather they're focused on Minnesota and a game flexed to prime time than awards or other diversions.
"We talk about poison, the noise, we talk about earmuffs, we talk about horse blinders," the coach said. "You know, don't worry about anything, you just keep playing. If you played a good game great, now next game. And if you played a bad game, now next game, and you just stay straight ahead."
Trubisky's career-best 355-yard passing day last Sunday gave the Bears a 34-22 win over the Detroit Lions for their first divisional victory since Halloween 2016. He went 23 for 30 and had three touchdown passes, while also running for a TD.
"I think just good feet, good eyes and I just played with conviction," Trubisky said. "I made a decision that I was just in a good mind state, just go out there and play confident."
Trubisky has four 300-yard passing games, tied for best by a Bears quarterback in a single season. It's fostering anticipation he'll improve even more.
"He's slowly improving, which I love," Nagy said. "It's not going to be an overnight thing; he had a good game and we want to continue to have those good games. But there's a process to it."
Trubisky made his first start against the Vikings last year in a 20-17 loss, and threw an interception to Harrison Smith in the closing minutes to seal the verdict.
"I think I've grown a lot since that play," Trubisky said. "I'm not the same player, not even close. I've got better since that instance and I'm excited for the opportunity this weekend."
The Bears won a game over Carolina later in the year when Trubisky completed only four passes.
So much has changed with the Bears since that point in the fifth game last year, including Nagy's hiring. The trade for pass rusher Khalil Mack and the turnaround under their new coach have led to renewed vitality at Halas Hall. They've become a hot ticket for the television networks, as their home game with the Los Angeles Rams was flexed Wednesday into a Sunday night contest.
"It's a great vibe around the building now," Trubisky said. "The culture has definitely changed and there's a better vibe around the city in how people view the Bears and how they see us."
The offense is still only 20th at passing but is 10th in touchdown passes with 19. Trubisky's passer rating of 101.6 is higher than those of Cam Newton, Ben Roethlisberger, Deshaun Watson, Tom Brady and Aaron Rodgers.
Yet Nagy sounded a cautionary note earlier this week about the team's running attack.
"You can't go through this thing and be one-dimensional," Nagy said. "It's just too easy for defenses."
Jordan Howard hasn't had a 100-yard rushing game this season and the Bears had 64 and 54 yards rushing the last two games, respectively.
"Keep doing our job and the passing game can keep airing it - it will open up the run," tackle Charles Leno Jr. said. "We've just got to get (Howard) and (Tarik Cohen) the ball more and those guys will make plays, and we're just going to do a better job."
The other problem area is the kicking game after Cody Parkey nailed the uprights four times on misses in last week's game. So Parkey was slated to practice kicking Wednesday night at Soldier Field because Sunday's game is at night.
"I mean, it can't hurt," Parkey said.
Parkey was lampooned on the "Tonight Show" by Jimmy Fallon for hitting the uprights. Parkey sounded a bit like Trubisky when asked if he'd heard this.
"No," Parkey said. "I (couldn't) care less."
___
More AP NFL: https://apnews.com/tag/NFL and https://twitter.com/AP_NFL