Bears' Montgomery reaches deal with Lions, Chicago acquires another RB: report
CHICAGO - Chicago Bears RB David Montgomery has reached a three-year, $18 million deal with the Detroit Lions, according to a report.
ESPN's Adam Schefter reported the news Tuesday night.
In the deal, $11 million is guaranteed for Montgomery.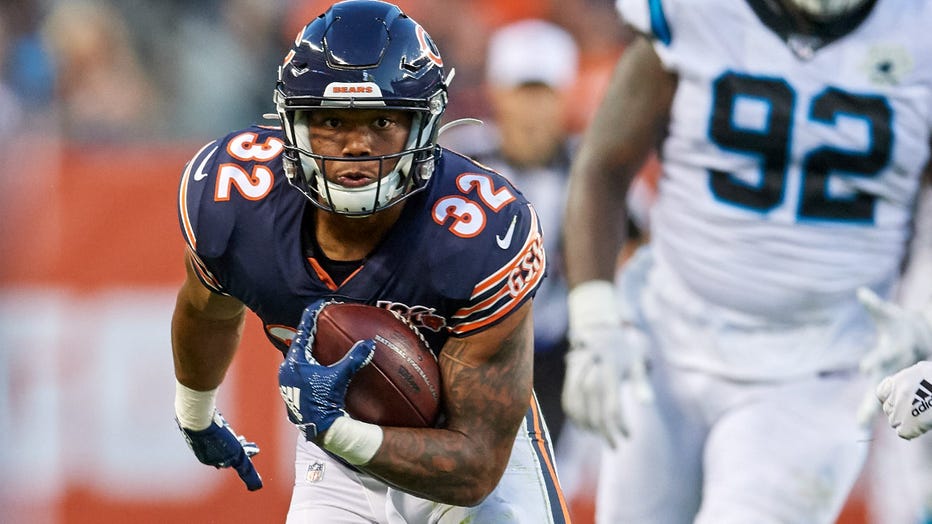 Chicago Bears running back David Montgomery runs with the football in game action during a NFL preseason game between the Carolina Panthers and the Chicago Bears on August 8, 2019 at Soldier Field, in Chicago, IL. (Robin Alam/Icon Sportswire via Getty Images / Getty Images)
In addition, the Bears have reportedly agreed to a two-year, $4.5 million deal with former Seattle Seahawks RB Travis Homer.
The Bears have made some serious moves in the last week.
On Friday, they agreed to trade the No. 1 overall pick in the draft to Carolina, two people familiar with the deal told The Associated Press. Chicago addressed a big need for a playmaker to help quarterback Justin Fields by acquiring star receiver D.J. Moore from the Panthers along with the No. 9 and No. 61 overall picks in 2023, a first-rounder in 2024 and a second-rounder in 2025.
The Bears also have agreements in place with Buffalo Bills two-time Pro Bowl linebacker Tremaine Edmunds, former Philadelphia Eagles linebacker T.J. Edwards, former Tennessee guard Nate Davis, and former Tennessee Titans defensive end DeMarcus Walker, according to people familiar with their situations.
The Bears also hired Big Ten Commissioner Kevin Warren as team president in January and last month purchased a 326-acre plot of land in suburban Arlington Heights that the organization has been sizing up for a new enclosed stadium.
This is a developing story.