Bears tight end Zach Miller counts blessings after injury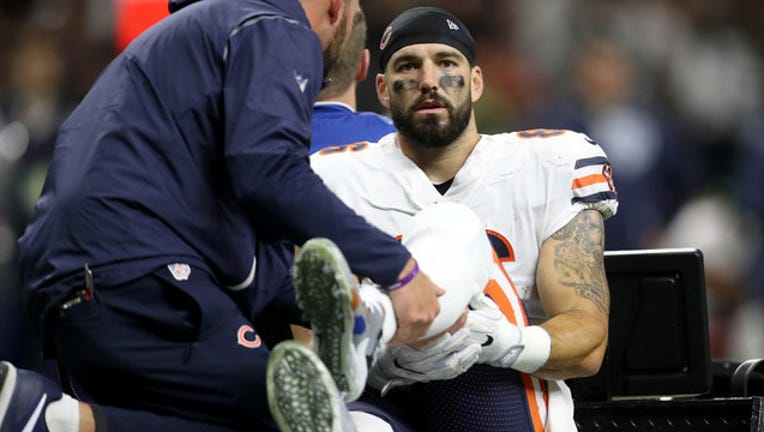 article
LAKE FOREST, Ill. (AP) - Chicago Bears tight end Zach Miller expressed uncertainty over his future upon returning Monday to Halas Hall after a series of serious knee surgeries.
What Miller did know was he's been through a nightmare that nearly resulted in the amputation of his left leg. It was a nightmare with a happy ending.
"That was very real, a couple wrong turns away from actually happening," Miller said about losing his leg. "I had a ton of care, a lot of people helping me out throughout that entire process. But we were a couple minutes away from having that be real."
With tears in his eyes at times, Miller spoke to reporters about the ordeal resulting from a season-ending dislocated knee suffered Oct. 29 at New Orleans.
Miller had surgery for a popliteal artery behind the knee in order to restore blood flow.
At the time of the injury, Miller wasn't told of the chance he'd lose his leg, but he knew from the way it was filling up with blood that it was serious.
"I remember, before I got into the emergency surgery, the last thing I was telling the doctors was 'Please, save my leg!'" Miller said. "Because I knew that something wasn't quite right just in the way my leg was feeling and the way it was filling up. I knew we had issues."
Miller injured the leg making a touchdown catch, but later replay negated the TD and it was ruled he failed to maintain possession throughout the process.
"Forever be a touchdown for me," Miller said.
Miller called the outpouring of support he's received a life-changing event, and especially cited help received from Bears board chairman George McCaskey.
"That guy's been awesome, and that'll be a memory I'll keep forever," Miller said.
Since suffering the injury, Miller has sought out others who've had similar injuries, including former Raiders running back Napoleon Kaufman and current Raider Pharaoh Brown.
He also has been in contact with California high school football player Alex Ruiz, who still faces possible amputation of part of a leg following a similar injury.
"I've had a number of people reach out to me who have had an injury similar to this or worse doing everyday things, whether it be recreational activity, hanging out, swimming," Miller said. "This type of thing is actually more prevalent than you may think, but I've had people reach out to me."
Miller is taking a day-by-day approach to recovery.
"I've been a football player my whole life," Miller said. "I would love to play football. We'll cross that road when it's time."
Most of Miller's surgeries were related to the blood flow, which he said is now good. The knee's structure remains solid.
"The main ligaments that I've got are good," he said.
Miller, 33, is a free agent after this season. He suffered a season-ending foot fracture in 2016, and with past teams had a torn Achilles in 2012 and a season-ending shoulder injury in 2011.
Bears coach John Fox said Miller will continue to have a supporting role in the background the rest of the season.
"When you get knocked down, you see people's real character and how they respond," Fox said. "He's handled it like a champ. And I think most everybody that knew him or knows him, he acted like you'd expect Zach to act. It's very impressive."
Miller's return to the facility came a day after the Bears (4-9) broke a five-game losing streak with a 33-7 win at Cincinnati. He said he enjoyed being around teammates.
"It just felt good to be back," Miller said. "There are a lot of people I still haven't seen that I need to see. But there have been a lot of hugs to go around."
___
For more NFL coverage: www.pro32.ap.org and http://twitter.com/AP_NFL