Bettman hasn't tried to talk to Kane during investigation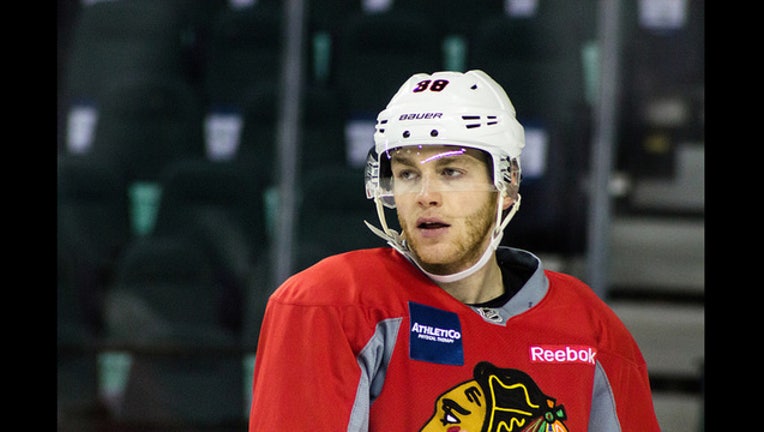 article
TORONTO (AP) - NHL Commissioner Gary Bettman said he hasn't attempted to talk to Patrick Kane while the Chicago Blackhawks star has been investigated about a sexual-assault allegation.
"Nobody is going to talk to us," Bettman told The Associated Press on Wednesday. "When you're being investigated, you're focused on that from law enforcement and you're not going to be dealing with third parties."
Erie County prosecutors have postponed grand jury proceedings involving Kane, a person familiar with the investigation confirmed to the AP this week.
Evidence was scheduled to be presented to jurors on Tuesday but the hearings were postponed for about two weeks, the person said. A second person familiar with the investigation says Kane is accused of sexually assaulting a woman at his offseason home near Buffalo. Both people spoke on condition of anonymity because District Attorney Frank Sedita and police have not disclosed details of the case since announcing their investigation last month.
"He hasn't been charged," NHL Players' Association Executive Director Don Fehr said Wednesday after promoting the World Cup of Hockey at a news conference. "We hope and expect that he won't be, but we have to wait and see."
The defending Stanley Cup-champion Blackhawks are scheduled to open training camp next week at Notre Dame and no one is sure if one of their superstars will be there.
"I am not commenting about the Kane matter," Sedita told the AP last week. "Having said that, it's difficult to imagine how any sport's team's training camp schedule would ever have any effect upon a prosecutor's decision-making process."
The 26-year-old Kane is from Buffalo and was selected by Chicago with the No. 1 pick in the 2007 draft. The four-time All-Star and 2013 playoffs MPV has since helped Chicago win three Stanley Cup titles in six years. He's a two-time Olympian.
Bettman told reporters the situation is "unfortunate," adding it is not reflective of how a vast majority of players in the league conduct themselves off the ice.
"It's a terrible thing," Bettman said. "But we're going to have to watch the process play out and at the appropriate time, we'll make whatever decisions have to be made."
For now, Bettman said there's not a lot the league can do.
"Our access to information, while legal procedures are ongoing, is somewhat limited," Bettman said in a conference room at the NHL's office in Toronto. "Our ability to talk to a player in question is fairly limited when they're dealing with legal entanglements."