Blackhawks C Anisimov sidelined for matchup with Blues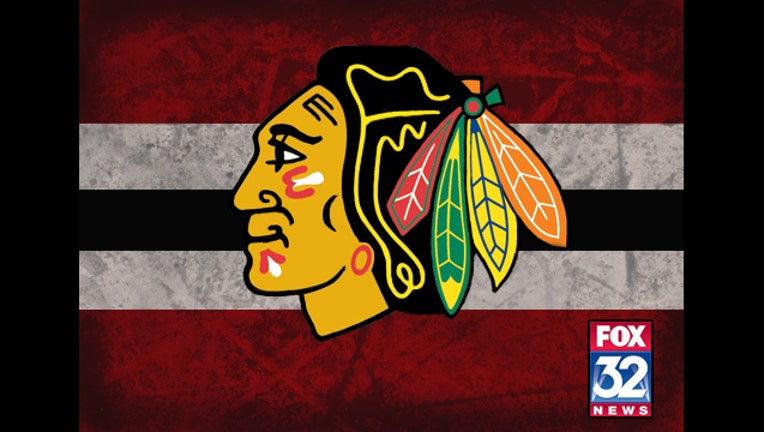 article
CHICAGO (AP) - The Chicago Blackhawks think they will be at full strength when the NHL playoffs start next week.
Right now, not so much.
The defending Stanley Cup champions will be without goaltender Corey Crawford and forwards Artem Anisimov, Marian Hossa and Andrew Shaw when they take on the St. Louis Blues on Thursday night.
Crawford, Anisimov and Shaw are out with upper-body injuries, and Hossa is making his way back from a lower-body injury. Crawford and Hossa participated in Chicago's morning skate, and it looks as if Crawford will return for Saturday's season finale at Columbus for his first game since a 5-0 loss to the Los Angeles Kings on March 14.
"We got him targeted for Saturday," coach Joel Quenneville said.
The 37-year-old Hossa, just one shy of 500 career goals, got hurt during Sunday's 6-4 win against Boston. He skated for about 20 minutes by himself before Thursday's morning skate and felt good enough to join his teammates for practice. He also could return against the Blue Jackets, but sounded as if he wanted to be cautious.
"If it is meant to be and I feel great in a couple days, I'll play," he said. "If not, you know the health is more important at this time of the year."
Anisimov left in the second period of Chicago's 6-2 win over Arizona on Tuesday night after taking a big hit. Anisimov, who has 20 goals and 22 assists in his first season with Chicago, centers the Blackhawks' potent second line with rookie Artemi Panarin and Patrick Kane on the wings.
"He is fine," Quenneville said. "He is out today, and I'm going to say questionable and doubtful for Saturday, but he'll be fine."
Shaw is expected to return for the start of the playoffs. He got hurt during Friday's 5-4 overtime win at Winnipeg.
The Blues have their own injury issues. Goaltender Jake Allen and forward David Backes are out with lower-body injuries, but could return for the start of the playoffs. Center Steve Ott had hamstring surgery in December, and then was diagnosed with colitis. Defenseman Jay Bouwmeester and rookie forward Robby Fabbri also have been hurt, but could return against Chicago.
While Anisimov and Shaw missed the morning skate, Bryan Bickell rejoined the team after he was promoted from Rockford of the AHL on Wednesday. The 30-year-old Bickell spent much of this season with the IceHogs after helping Chicago win the Stanley Cup last year. The rugged winger, who signed a $16 million, four-year deal in 2013, has 20 goals and 19 assists in 75 career playoff games.
"We know at this time of the year his play seems to rise to the challenge of playing important games," Quenneville said, "and he brings an element that he's got all the tools to help our team."
___
Jay Cohen can be reached at http://www.twitter.com/jcohenap