Blackhawks looking for turnaround after missing playoffs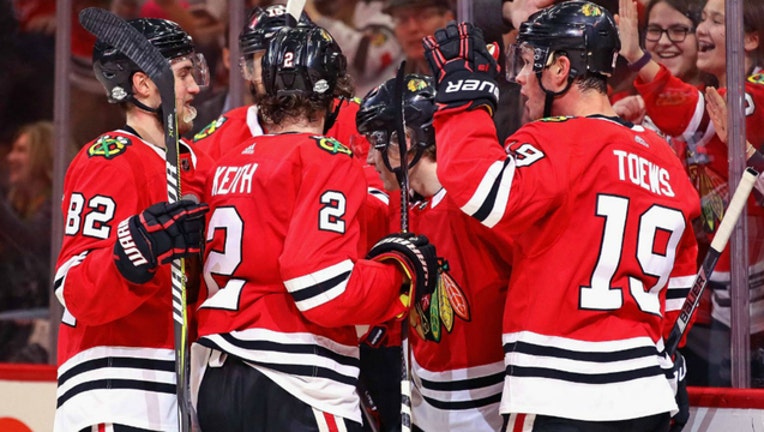 CHICAGO (AP) - For all the talk about Corey Crawford and the aging core of the Chicago Blackhawks, coach Joel Quenneville delivered a simple message as the team got back together for the start of a season that could have a dramatic impact on the direction of the franchise.
Bring it, all the time.
"We want to be more competitive than we were last year," Quenneville said. "I think we were a little disappointed across the board. As coaches, as players, I think we want to make sure that that consistency (is there) every single night, that we're giving it our best shot. ... Let's make sure that there's only one standard, and that's all out, and off of that we should be able to find a way to get points on a regular basis."
That used to be a given in Chicago, which has won the Stanley Cup three times since 2010. But the Blackhawks were swept in the first round of the postseason in 2017 and then missed the playoffs entirely last season for the first time in a decade, slipping all the way to the basement of the ultra-competitive Central Division.
A similar finish could mean the end of the highly successful pairing of Quenneville and general manager Stan Bowman. There also could be major changes to the roster.
With that uncertain future in mind, or maybe just drawing motivation from the disappointment of last season, it sounded as if the Blackhawks worked out hard over the summer. Bowman said on the first day of training camp it was the best conditioned group he had ever seen.
"I think we all hit the reset button," captain Jonathan Toews said. "I think we can't forget what we went through last year. We've got to use that as motivation, but at the same time we can't come into this season thinking that's probably where we're going to end up. We can't come in with that as an expectation. We've got to kind of wipe the slate clean."
A healthy year for Crawford could provide a big lift. The All-Star goaltender went 16-9-2 with a 2.27 goals-against average and .929 save percentage in 28 games last season before he was sidelined by a concussion.
Quenneville and company are preaching slow and steady with the 33-year-old Crawford so far this year. If he is unable to go at the start of the season, Cam Ward will serve as the No. 1 goaltender after signing a $3 million, one-year contract in free agency.
The Blackhawks clearly missed the underappreciated Crawford while Anton Forsberg, Jean-Francois Berube and Jeff Glass faltered in net when he was out. Toews said the rest of the team has to pitch in as well.
"At the end of the day we've got to do a better job of playing in front of our goaltender, regardless of who is in there," he said.
TURNING BACK THE CLOCK
Duncan Keith and Brent Seabrook have been fixtures on Chicago's blue line for more than a decade. But each of the accomplished defensemen showed signs of age last season. The 35-year-old Keith, a two-time Norris Trophy winner and three-time All-Star, played in all 82 games, but finished with just two goals - matching his career low - and 30 assists. Seabrook, who turns 34 in April, also looked a step slow at times.
TIME FOR A SEQUEL?
A year ago, Alex DeBrincat was an unknown commodity. Then the winger, a second-round pick in the 2016 draft, collected 28 goals and 24 assists during an impressive rookie season. DeBrincat has a knack for finding open areas on the ice and doesn't turn 21 until December. The Blackhawks are hoping he can produce similar numbers this year.
HOME SWEET HOME?
The United Center has been one of the NHL's toughest places to play for a long time. But the Blackhawks went just 18-18-5 at home last season, and there were pockets of empty seats for some of the final games.
WHO'S THE MANNING?
Brandon Manning could take on a more prominent role at the start of the season with fellow defensemen Connor Murphy and Gustav Forsling sidelined by injuries. The 28-year-old Manning set career highs with seven goals and 12 assists in 65 games last season with Philadelphia. He signed with Chicago during free agency, and Quenneville praised his smooth transition to his new team during training camp.
___
Jay Cohen can be reached at http://www.twitter.com/jcohenap
___
More AP NHL: https://apnews.com/tag/NHL and https://twitter.com/AP_Sports