Blackhawks trade Bickell, Teravainen to Carolina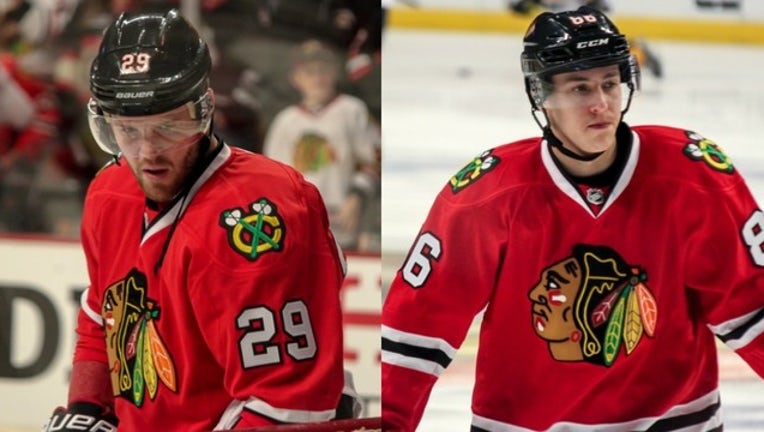 article
CHICAGO (FOX 32 News) - The Chicago Blackhawks have traded forwards Bryan Bickell and Teuvo Teravainen to Carolina in exchange for a pair of draft picks.
In a trade announced Wednesday, Carolina sent a second-round pick in the 2016 draft, the 50th overall, and a third-round pick next year to Chicago, which saves significant salary-cap space.
"I would like to thank both Bryan and Teuvo for their contributions to the Blackhawks organization," Blackhawks Senior Vice President and General Manager Stan Bowman said. "Both players were drafted by our organization and developed to play important roles on Stanley Cup championship teams. We wish them the best as they continue their careers with Carolina."
Bickell, 30, has notched 65 goals and 70 assists in 384 games with the Blackhawks, spanning nine seasons. A member of the 2013 and 2015 Stanley Cup Championship teams, he was the Blackhawks second-round selection (41st overall) in the 2004 NHL Draft.
Bickell, who split time between Chicago and the AHL's Rockford last season, has one year left on his contract, at a cap hit of $4 million. He was considered a buyout candidate with the window opening Wednesday.
Teravainen recently completed his third NHL season—all with the Blackhawks—and has collected 17 goals and 27 assists in 115 games. Chicago's first selection (18th overall) in the 2012 NHL Draft, Teravainen was a member of the team's 2015 Stanley Cup Championship.
The 21-year-old Finn is considered one of the top prospects in hockey.