Blues beat Blackhawks 4-1 in Busch Stadium Winter Classic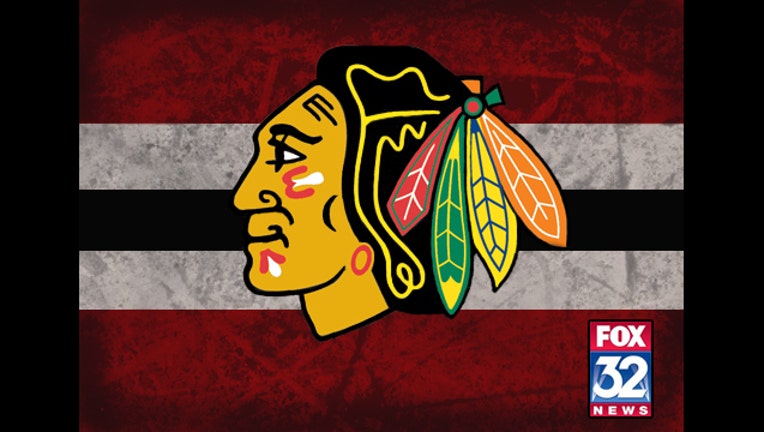 article
ST. LOUIS (AP) — Vladimir Tarasenko looked quite comfortable at Busch Stadium. It turns out his wicked wrist shot works outside, too.
Tarasenko scored two goals in the third period, Jake Allen stopped 22 shots and the St. Louis Blues beat the Chicago Blackhawks 4-1 in the Winter Classic on Monday at the longtime home of baseball's St. Louis Cardinals.
Tarasenko is "a hungry offensive player. He sniffs out coverage issues and he jumps on it," Blues coach Ken Hitchcock said. "When he's engaged like he was today and like he's been for the most part this year, he's dangerous. He's always one shift away from breaking the thing wide open."
As usual, Tarasenko deflected the attention away from himself.
"It's not about my goals. We have a great team and a great goalie," he said. "It was a great win for us and everyone played their best."
It was 46 degrees when play began before a sellout crowd of 46,556, the sixth largest for a Winter Classic. It was the 21st regular-season outdoor NHL game.
Bobby Hull and son Brett dropped the ceremonial first puck. Bobby wore a Blackhawks jersey and Brett wore the Blues sweater.
The Blues went ahead 2-1 when Tarasenko made a backhand pass that hit the skate of Blackhawks defenseman Niklas Hjalmarsson and slipped by Corey Crawford at 12:05 of the third.
"That's one of those few guys in the league that has a shot that's more than above average and he doesn't have to wind up to get a big shot away," Hjalmarsson said. "So he can shoot it from anywhere and that's what makes him so dangerous."
Tarasenko then scored on a wrist shot over Crawford's shoulder at 13:58, giving him 18 goals this season. Robbi Fabbri assisted on both goals.
"It's no secret. He's got probably one of the best wristers in the league and everyone knows when he's out there," Crawford said. "Everyone knows what he can do."
The Blues added an empty-net goal by Alexander Steen at 18:46 to seal the victory.
"I thought we played a great game," Hitchcock said. "I thought we played a smart, sound hockey game and quite frankly, deserved to win."
St. Louis tied it at 1 at 7:45 of the second period. From behind the net, Jay Bouwmeester fed Patrick Berglund in the slot. Berglund one-timed the pass for his sixth goal this season. Steen got the second assist on the goal, the 300th of his career.
The Blackhawks scored 62 seconds into the game. Michal Kempny hit a slap shot from just inside the blue line that bounced and wobbled and went off the top of Allen's glove. Kempny got the puck on a pass from behind the net by Artemi Panarin.
It was Kempny's second goal of the season. He did not score in his first 24 games. Now he has scored in his last two games.
Crawford, who faced 34 shots, made his best save when he denied Tarasenko on a breakaway three minutes into the third period.
NOTES: St. Louis improved to 2-1-1 this season against Chicago. ... The slumping Blackhawks have lost five of their last six games. ... The Blues are the 11th team to play in the annual Winter Classic. The Blackhawks are 0-3-0 in the Winter Classic after previous appearances in 2009 and 2015. ... The Winter Classic at Busch Stadium was the fifth outdoor game for the Blackhawks since 2009. Jonathan Toews, Patrick Kane, Duncan Keith and Brent Seabrook each played in the previous four, and Crawford started the last three in goal. ... Before Monday, the only Blues players to have played in an outdoor game were defensemen Carl Gunnarsson and Bouwmeester. ... Chicago RW Marian Hossa is on the injured list with an upper-body injury and was not activated. ... Chicago C Marcus Kruger has been placed on the injured list. ... Blues RW Nail Yakupov was out because of illness.
UP NEXT
Blackhawks: Host Buffalo on Thursday.
Blues: Host Carolina on Thursday.