Campbell returns to Blackhawks after agreeing to 1-year deal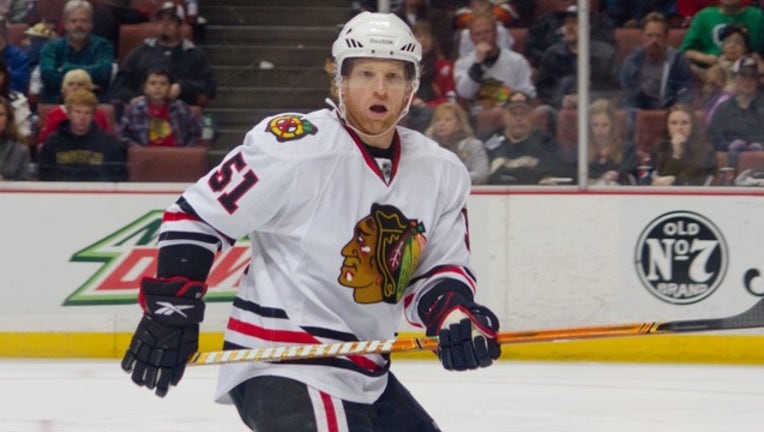 article
CHICAGO (AP) - Brian Campbell wanted to return to Chicago and the Blackhawks were more than willing to welcome him back.
The veteran defenseman is back with the team that he helped win the Stanley Cup in 2010, agreeing to a one-year contract on Friday.
"It's where I wanted to be. It's where my heart was," said Campbell, who lives in the Chicago area with his family. "It just makes our lives perfect. We're so ecstatic."
The 37-year-old Campbell played in Chicago from 2008 to 2011 and was a key part of a team that brought home the first championship since 1961. The Blackhawks also won titles in 2013 and 2015 with Jonathan Toews and Patrick Kane leading the way. But Campbell was gone by then.
Campbell spent the past five seasons with the Florida Panthers, appearing in all of the team's 376 regular-season games. He had 28 goals and 147 assists and won the Lady Byng Memorial Trophy in 2011-12 after scoring 53 points (four goals, 49 assists). He was the first defenseman since Red Kelly (1954) to win the award.
Campbell had six goals and 25 assists in 82 games last season and led NHL defensemen with a plus-31 plus-minus rating.
"Brian brings so much to the table," Blackhawks general manager Stan Bowman said. "His overall game maybe is a little bit underrated. Obviously, he's got great mobility still. He's always been an offensive player, so he can play on the power play and add offensively. He was relied upon to kill penalties and he can do a lot of things."
Toews was clearly glad to have him back, posting on Twitter: "Sooouuuup! Happy to have @bcampbell_51 back in Chicago. Welcome home."
In his first stint with the Blackhawks, Campbell had 19 goals and 98 assists in 215 games. In 43 playoff games for Chicago, he had 14 assists and four goals — including four assists and a goal during the championship run.
Campbell said he could have made more money elsewhere but gave the Blackhawks a discount because it was the right fit for him on a personal — as well as professional — level. His wife is from the area. They have two young daughters, and he said he has been welcomed into his neighborhood.
"I wasn't going to play for league minimum, but I was definitely ready to take a lot less," Campbell said. "This morning I had to get up and be comfortable with coming to the rink every day, and I'm truly ready to go and compete my hardest for the Blackhawks."
While the Blackhawks welcomed back Campbell, forward Andrew Ladd agreed to a seven-year deal with the New York Islanders. Acquired at the trade deadline from Winnipeg, Ladd had eight goals and four assists over 19 games in his second stint in Chicago.
Bowman said he does not expect the Blackhawks to make another significant addition. He also confirmed the team has placed defenseman David Rundblad on buyout waivers.
"I think he's looking to maybe pursue some other opportunities, whether it's in the NHL or maybe in Europe," Bowman said. "I can't speak for him. But I think he's still a young guy. He wants to get back to playing a lot of hockey, and I know that's the reason that he wanted to go over to Europe midseason. We were willing to honor that request. We're gonna let him find a spot where he knows he's gonna be a regular player, every day, a lot of minutes."
The Blackhawks also agreed to one-year contracts with forwards Sam Carrick, Pierre-Cedric Labrie and Spencer Abbott.
Carrick, 24, played in three games with the Toronto Maple Leafs last season. The 30-year-old Labrie spent the past two seasons with the Rockford IceHogs, Chicago's American Hockey League affiliate.
Abbott, 28, had 14 goals and 21 assists for the Swedish Hockey League's Frolunda Indians last season. He played for Rockford during the 2014-15 season.