Cubs' Addison Russell suspended 40 games without pay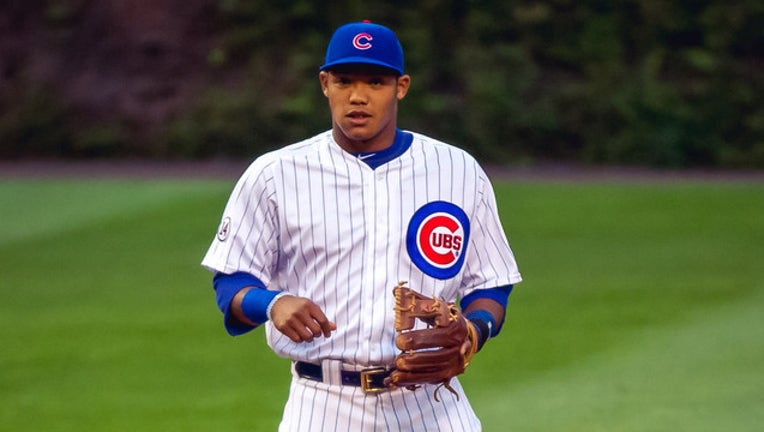 CHICAGO (AP) - Chicago Cubs infielder Addison Russell accepted a 40-game suspension Wednesday for violating Major League Baseball's domestic violence policy after a series of allegations made by his ex-wife.
Commissioner Rob Manfred announced the ban and said MLB had completed its investigation into the accusations made by Melisa Reidy. Russell had denied the allegations, which Reidy detailed in a blog post in September.
Russell's unpaid suspension includes the 11 regular-season games he missed after being placed on administrative leave Sept. 21. Russell will be eligible to return on May 3 against St. Louis, barring any postponements, and he will not appeal the suspension. He will also participate in an evaluation and treatment program.
Cubs president of baseball operations Theo Epstein said he's not sure what the odds are of Russell playing another game for the Cubs.
"Domestic violence is everyone's problem," he said. "Because of that, we all have an obligation to be part of the solution as well. The discipline in a case like this is part of the solution going forward and so we support Major League Baseball's decision and we think it's appropriate. But prevention is also a big part of the solution and maybe a more important solution."
The Cubs' season ended Tuesday with a 2-1, 13-inning defeat to the Colorado Rockies in the NL wild-card game. Russell was not active for the game.
MLB has said it began an investigation last year after allegations against Russell first became public.
Reidy posted a photo on her Instagram account last year with a caption suggesting her husband of about 18 months had been unfaithful to her. In another post, a user described by Reidy as a close friend claimed Russell had "hit" his wife. The post was later deleted. Reidy declined to talk to MLB at the time because she decided it was not in her family's best interests, her attorney, Thomas Field, said last year.
Reidy then published a blog post in September describing more detailed allegations, including years of physical and emotional abuse. Less than 12 hours later, MLB announced Russell had been put on leave under MLB's domestic violence policy.
"The part I do question myself on in general as a sports team is what is the absolute best structure that you can have for your players, for their spouses and for their families so that this never happens?" Epstein said. "I know we have a wonderful family program and we have wonderful people working for support. We try to stay as engaged as possible with the families. But clearly, because this happened, we should all be asking, 'Can we do more?'"
Epstein said it's the Cubs' "obligation" to give both Reidy and Russell the support they need. He also said the organization needs to see if there's more it can do to support players and families and make sure a similar situation does not come up in the future.
The Cubs have been willing to employ players following suspensions under the domestic violence policy before. All-Star closer Aroldis Chapman served a 30-game ban with the Yankees in 2016 before Chicago acquired him midseason and utilized him to end a 106-year World Series title drought.
Chicago acquired Russell in a July 2014 trade with Oakland. He helped the Cubs win the World Series two years ago, batting .238 with 21 homers and 95 RBIs in 151 games.
Russell hit .250 with five homers and 38 RBIs in 130 games this season.
"I think we have to understand that with all of our words and actions going forward, whether we know it or not, we're sending messages to our fans who all have their own unique backgrounds and histories and sensitivities and perspectives, and that's important," Epstein said. "I honestly, personally, think the most important thing going forward is to be part of the solution and making this a better place."