Cubs' Maddon tossed again in NLCS; ump admits he missed call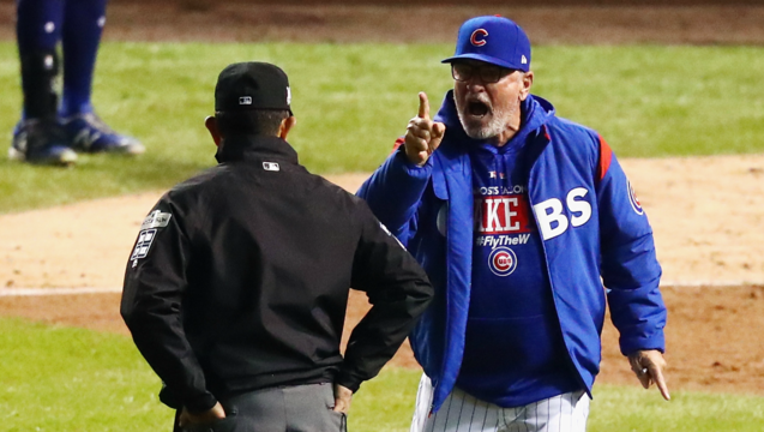 article
CHICAGO (AP) - Cubs manager Joe Maddon turned out to be right. Even the umpire said so, later.
Maddon's prize? He got ejected for the second time in the NL Championship Series.
At least he'll get one more day in the dugout. Chicago reliever Wade Davis struck out Curtis Granderson on the next pitch after the disputed call and the Cubs beat the Los Angeles Dodgers 3-2 Wednesday night in Game 4 to avoid a sweep.
Maddon lost his argument in the eighth inning over what was originally ruled a swinging strikeout of Granderson. That call was changed to a foul tip after Granderson objected and Dodgers manager Dave Roberts asked the umpires to confer on the field.
Under Major League Baseball rules, the play was not subject to video review.
"After looking at it (on replay afterward), I was dead wrong," plate umpire Jim Wolf said. "I talked myself into the whole thing."
Maddon said afterward, "If Granderson hit the next pitch out, I might come running out of the clubhouse in my jockstrap. It was really that bad."
Wolf -- the brother of former big league pitcher Randy Wolf -- said afterward he heard "two distinct, separate sounds" on the pitch, believing the first to be the pitch bouncing in the dirt and the second being the pop of the catcher's mitt. After Roberts appealed and Wolf gathered his crew, he was told by his fellow umps "that the ball did not bounce -- it did hit the ground but it did not bounce."
"I basically talked myself into `he did foul tip it,"' Wolf said.
Maddon didn't buy the "two sounds" explanation at the moment and roared at several members of the crew. He wasn't buying it afterward, either.
"I'm not going to sit here and bang on umpires. I love a lot of guys on this crew. I've know them a long time. But that can't happen," he said.
"The process was horrible. ... You have 40-some thousand people, it's late in the game. The other sound could have come from some lady screaming in the first row."
Maddon was ejected in Game 1 at Dodger Stadium after a call at home plate was overturned because of the slide rule. He basically acknowledged he was trying to get himself tossed this time around.
After poking more holes in the "two sounds" explanation, he said, "There is no way, no way I'm not getting ejected at that point. I've got make my point. Just being honest," he added.
Crew chief Mike Winters confirmed Maddon had something to say "to everybody, because at that point, the process didn't matter to him. It just mattered that it didn't go his way.
"We were trying to calm him down and we tried not to eject him, but he made that impossible," he said.