Cubs 'pen perfect for 7 innings in 1-hit win over Dodgers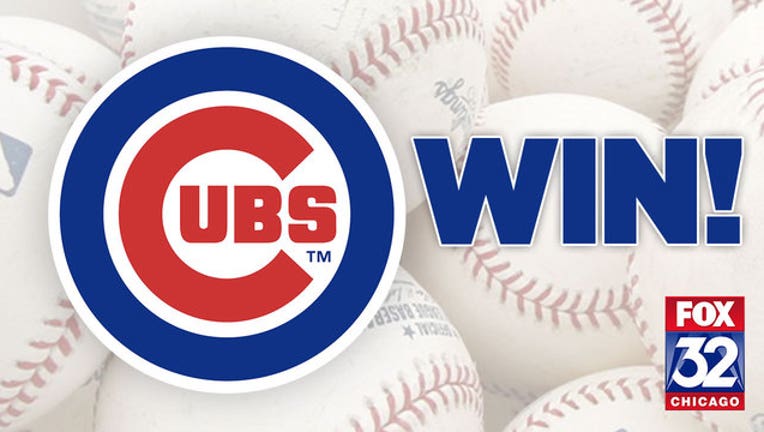 article
CHICAGO (AP) - Jason Hammel wasn't thrilled to leave Monday's game after two innings of one-hit ball because of right hamstring cramps.
At least he could joke about it afterward.
"I blew the no-hitter," he cracked.
Travis Wood and three other relievers combined for seven perfect innings after Hammel left, and the Chicago Cubs one-hit the Los Angeles Dodgers 2-0.
It was the Cubs' sixth straight victory after losing eight of 12. They have the best record in baseball and are a season-high 21 games over .500 (35-14).
Hammel exited after cramping while warming up for the third inning. Wood (3-0) pitched four perfect innings in his longest stint of the season to get the win.
Justin Grimm, Pedro Strop and Hector Rondon pitched one inning each for the Cubs, with Rondon getting his ninth save.
That's the longest hitless performance in a game by Cubs relievers since they went 8 1/3 innings Sept. 26, 1948. Cubs pitchers retired the final 25 batters Monday, a franchise best since at least 1974, according to STATS.
"I think it's truly Travis Wood's day," Cubs manager Joe Maddon said. "He set that whole game up. Period."
Hammel said he is "very optimistic" he will be ready for his next turn in the rotation but will see he how he feels Tuesday. He said he'd never had a cramping issue like that and was surprised by this one.
"I honestly felt like I drank the equivalent of Lake Michigan last night," he said.
Ben Zobrist extended his hitting streak to a career-high-tying 16 games. He singled leading off the fifth and reached third when right fielder Yasiel Puig misplayed the ball. He scored on Jason Heyward's infield single.
It was the fewest hits for the Dodgers since the Cubs' Jake Arrieta no-hit them Aug. 30, 2015, in Los Angeles.
"One hit?" Roberts said. "That was unfortunate what happened over there to Hammel with the hamstring. And when you get into their 'pen that early, we felt pretty good about it."
Dodgers starting pitcher Alex Wood (1-4) gave up two runs on seven hits in five innings, striking out seven and walking three.
LATE ARRIVAL
The Dodgers had won six of seven entering this Memorial Day matinee. The Dodgers arrived at their Chicago hotel at 3:30 a.m. following a 4-2 win over Mets on Sunday in New York, but Roberts said before the game that his team had no problem with the quick turnaround.
STREAKING
Zobrist has reached base in his last 35 starts, the longest streak by a Cub since Starlin Castro's 40 in 2011. ... Rondon has converted 20 straight save opportunities dating back to Aug. 14.
MEMORIAL DAY LAMENT
Cubs manager Joe Maddon said his father, uncles and grandparents served in the military — and that his Uncle Buzz was a POW.
"The one regret I have in my own personal life is the fact that I never did serve," Maddon said. "At the time, it was very unpopular. The Vietnam War was going on, and I was in college. At the time, you really thought you were very fortunate not to have to do that. But retrospectively, that would be the one life experience that I missed out on. I wish I hadn't."
TRAINER'S ROOM
Dodgers: OF Trayce Thompson, who left Saturday's game in New York with lower back soreness, was 100 percent and available off the bench, according to Roberts. He's expected to start in left field on Tuesday. ... OF Carl Crawford, pulled from Saturday's game with a hamstring injury, started in left Monday. "I just wanted to give him (Thompson) another day and give C.C. an opportunity," Roberts said. "C.C. is a quick healer. I like the matchup of him and Hammel." ... RHP Brandon McCarthy (Tommy John surgery) was scheduled to throw to hitters at Dodger Stadium on Monday.
CUBS: Maddon did not start center fielder Dexter Fowler, who has a sore heel. Maddon said he hoped Fowler would return to the lineup Tuesday. Maddon moved Heyward from right to center, shifted Zobrist from second to right, and inserted Javier Baez at second. Zobrist also took Fowler's leadoff spot. Fowler entered Monday's game with a six-game hitting streak.
UP NEXT
CUBS: RHP Arrieta (9-0, 1.72 ERA) will try to become the major league's first 10-game winner. He is the first Cubs starter to win his first nine decisions in a season since Kenny Holtzman in 1967. The only Cubs starter with a longer season-opening streak was Jim McCormick, who started 16-0 in 1886. Arrieta is 20-0 with a 0.98 ERA in 22 starts since Aug. 1, 2015.
DODGERS: LHP Scott Kazmir (4-3, 4.84) pitched for then-Tampa Bay manager Maddon's 2008 World Series team. He has a 1-0 career record and 2.53 ERA in two games against the Cubs. Kazmir is 3-1 in May with a 4.13 ERA.