Cutler mending as injuries mount on Bears' offense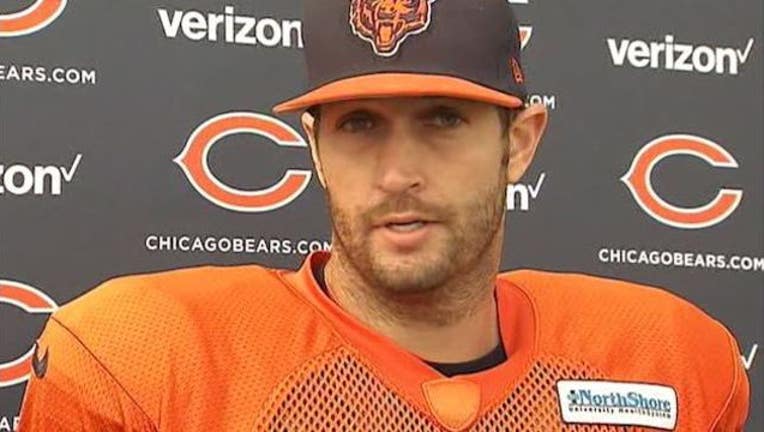 article
LAKE FOREST, Ill. (AP) — All around him, Jay Cutler sees teammates going down.
There is at least some positive news on the injury front for the Chicago Bears. Their quarterback is healing.
Cutler said the strained hamstring that kept him out two weeks ago is improving even if it's not quite 100 percent heading into Sunday's game at Kansas City.
"I feel better, I do, still not exactly where I want to be," he said Thursday. "But ... we have a lot of guys banged-up out here so just make do."
The Bears (1-3) have been racking up injuries at a rapid rate, particularly on offense.
Top receiver Alshon Jeffery has been sidelined since the opener by a hamstring problem, and Eddie Royal has an ankle injury.
Cutler missed a shutout loss at Seattle two weeks ago. He looked sharp in his return, helping the Bears beat Oakland for their first win under new coach John Fox and general manager Ryan Pace. But a dinged-up offensive line took another big hit with the loss of center Will Montgomery to a season-ending injury.
He broke his left leg early in the game, forcing the Bears to shuffle the rotation.
Matt Slauson moved over from left guard and Patrick Omameh came in to fill in at Slauson's regular spot. Cutler and Slauson did botch a snap, but Slauson drew praise for his performance given the circumstances.
"It's a testament to his character," right tackle Kyle Long said. "He's a consummate professional. He's not going to have any gripes about it. He's going to do his job well."
The Bears were already missing left tackle Jermon Bushrod because of a concussion and shoulder injury, and it's not clear what the line will look like against the Chiefs.
They could try starting Slauson at center, but Omameh has been dealing with an ankle injury. Another possibility is keeping Slauson at left guard and going with rookie Hroniss Grasu at center. A third-round pick out of Oregon, he took some reps with the first-team offense this week.
All those injuries have limited, to some extent, what offensive coordinator Adam Gase can call. Even so, the Bears have been in every game at least for a half, and there was a big jump last week with Cutler back after Chicago got shut out for the first time since 2002 with Jimmy Clausen at quarterback against Seattle.
His mobility limited, Cutler was steady in the pocket against Oakland and threw for 281 yards and two touchdowns. He did throw an interception that led to a late go-ahead field goal, but made up for it by orchestrating a drive that led to Robbie Gould's winning boot.
"I don't know if I've been around a performance like that as efficient as he was, to fight through what he had going on," Gase said. "But him sticking around in the pocket, obviously, he did a good job of protecting himself and he did a good job with all his reads."
Cutler praised Gase for protecting players with his calls, adapting to the personnel he has. He wonders what the offense would look like if everyone was healthy.
Chicago ranks 28th in points scored, 26th in total offense and 29th in passing. Talent, of course, is a big issue for a team coming off a five-win season. Injuries have not helped.
Cutler thinks he will be able to move around more against Kansas City, which could take some of the load off a banged-up line, even with an inexperienced center.
"I've always had older centers who make your life a little bit easier," Cutler said. "So Hroniss would be the youngest guy, but it's fine. He's going to go out there and he's going to play his butt off. If we go with Slau, we already have one game under our belt."
__
AP NFL website: www.pro32.ap.org and http://twitter.com/AP_NFL