Elena Delle Donne wins WNBA MVP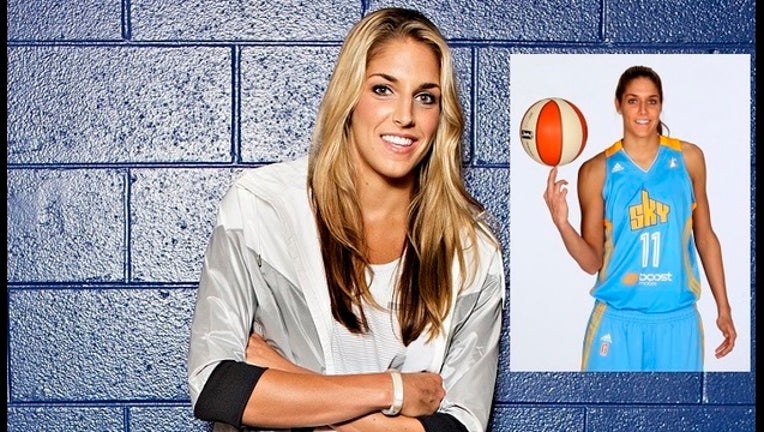 article
(AP) - Elena Delle Donne has to make more room in her ever-growing trophy case.
The Chicago Sky star was announced as the WNBA's Most Valuable Player on Wednesday for the first time in her young career.
"Sounds pretty crazy hearing that," Delle Donne said. "It's been an incredible season, my teammates are the ones that have the credit, the coaches as well. We had so much fun this year. Just want to keep it going."
She averaged 23.4 points per game to lead the league this season and help Chicago secure the second seed in the Eastern Conference.
"It's such a humbling thing with all the superstars in the league for me to be named MVP this season," Delle Donne said in a phone interview Wednesday night. "It's really special and really hard to put words to it. The crazy thing to think was that one day I had put the basketball down and might never have picked it up again."
Delle Donne was remembering when she transferred from UConn to Delaware before her freshman year of college citing homesickness and burnout. She didn't decide to play basketball again until her sophomore year, after playing volleyball for a season.
"I'm glad I took this type of road to get here, it makes it that much sweeter," she said.
She plans on bringing the trophy home to Delaware.
The 26-year-old forward grabbed 8.4 rebounds - more than double her total from the previous year. She also blocked two shots a game. The 2013 Rookie of the Year had a career-best 45 points early in the season and shot 95 percent from the free throw line.
"It showed I was more than just an offensive scorer," Delle Donne said. "Obviously scoring is something the team needed, but they also needed me to do more. Pokey (Chatman) talked to me last offseason about rebounding. That was a challenge I took to heart. I've worked much harder this season to improve defensively. I take pride in being an all-around player."
She received 38 of the 39 first-place votes from a national media panel of sportswriters and broadcasters. Minnesota's Maya Moore, who won the award last year, received the other first-place vote. New York's Tina Charles finished third. Phoenix's Brittney Griner was fourth and LA's Candace Parker was fifth.
Delle Donne is the first Chicago Sky player to win the award and just the fourth from the Eastern Conference in the league's 19 years.
As excited as Delle Donne was to win the award, she has loftier thoughts.
"The WNBA championship is by far the biggest goal," she said. "That would be far the most amazing thing to bring home to Chicago."
Chicago faces Indiana in the opening round of the playoffs that begin Thursday night.
Delle Donne helped the Sky reach the finals for the first time last season before losing to Phoenix.
It's been a good month for Delle Donne as far as winning awards. She was announced as the Dawn Staley Community Leader winner for the second straight year earlier in September. The league donated $10,000 to Lyme Aid 4 Kids on her behalf.
NBA superstar LeBron James tweeted at Delle Donne after it was announced she won. "Congrats to @De11eDonne!!! #MVPStatus #StriveForGreatness"
"Seeing LeBron tweets was really special," Delle Donne said. "Damian Lillard and J.J. Watt also reached out to me. There's been a lot of tweets and texts. Shows you how much athletes care about each other."