Flyers beat Blackhawks 3-2 to move into playoff position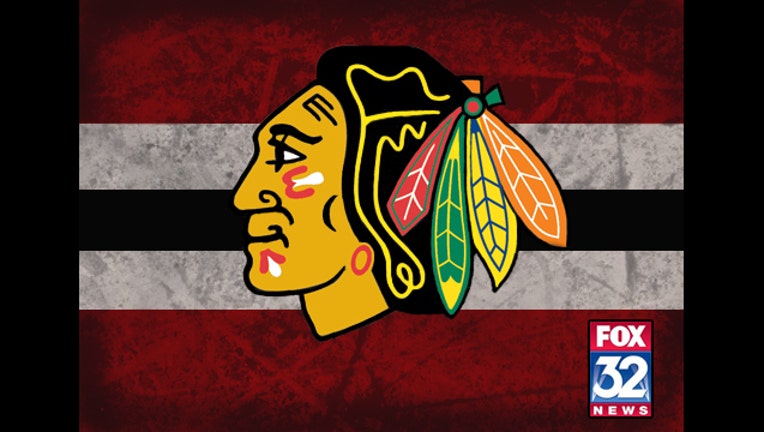 article
CHICAGO (AP) — One fortunate skip off the ice, and Philadelphia was in position to grab a playoff spot. The Flyers celebrated by packing up and heading home.
Lots of days still left on the schedule.
Defenseman Radko Gudas scored on a deflected shot in the third period, and surging Philadelphia beat the Chicago Blackhawks 3-2 on Wednesday night to move into position for a wild-card ticket to the postseason.
"We've pushed hard to get ourselves back in that race and be in the race," first-year coach Dave Hakstol said. "It's one step in the right direction. We've got a lot of work left in front of us."
Michal Neuvirth made 24 saves as Philadelphia improved to 8-1-1 in its last 10 games and leapfrogged idle Detroit for the eighth spot in the Eastern Conference. The Flyers beat the Red Wings 4-3 at home on Tuesday night.
Gudas' slap shot at 9:53 of the third went off the stick of Blackhawks defenseman Christian Ehrhoff and then bounced off the ice before elevating past goaltender Scott Darling. It was Gudas' third goal of the season — with each coming in the last six games.
"I was just trying to get through the first guys and I'm lucky enough it bounced off somebody and went in," Gudas said.
Ryan White and Brayden Schenn also scored for the Flyers (34-23-12), who swept the two-game season series against the Blackhawks (41-24-6).
"We're feeling good. That was a big game out there tonight," White said. "At times we weren't our best, but we hung in there, stuck in there and played great and found another way to win a game."
Chicago coach Joel Quenneville juggled his lines and gave starting goaltender Corey Crawford the night off, but the Blackhawks still lost their fourth consecutive game. Marian Hossa scored his 497th career goal, and Jonathan Toews added his 25th of the season in the second.
"We know how we have to play, and we've got to get back to playing our kind of hockey," defenseman Brent Seabrook said. "We've got to get back to playing off the start, having good starts and trying to carry that momentum through. I thought we did that tonight. This last stretch here, we've got to get some points to be where we want to be."
The Blackhawks caught a break in the first when Flyers defenseman Shayne Gostisbehere broke his stick on a power-play shot from the left point, sending the puck right to Artem Anisimov. The center played it up to Hossa for a short-handed breakaway, and the winger beat Neuvirth on the stick side for a 1-0 lead at 8:18.
Chicago then had almost two minutes' worth of a 5-on-3 power play and came up empty.
"We had a couple chances, but nothing like we'd like to create with the full two minutes," forward Patrick Kane said. "We had to chase the puck a couple times and didn't really get it set up the way we wanted. Disappointing not to cash in."
Philadelphia got another power play at the end of the period, and took advantage this time around. With Artemi Panarin in the box for interference, White was credited with his ninth goal when Andrew MacDonald's big slap shot went off his left shin and past Darling at 18:48.
Darling finished with 26 saves in his first home loss of the season.
Toews got the lead back for Chicago when he flipped his own rebound into the top of the net at 4:58 of the second. But Schenn finished off a 2-on-1 with Claude Giroux for his 24th goal, tying it at 2 with 6:58 left in the period.
Toews' fourth goal in his last eight games gave him at least 25 for the third straight season. Kane also got an assist on the play, running his NHL-best total to 90 points.
NOTES: Flyers C Chris VandeVelde was sent off for elbowing Toews in the head late in the first period, a penalty that likely will attract the attention of the league. ... Flyers F Jake Voracek missed his ninth straight game due to a left foot injury. He is skating again and could return soon. ... D Erik Gustafsson was among the scratches for the Blackhawks. The rookie had played in seven of the last eight games.
___
Jay Cohen can be reached at http://www.twitter.com/jcohenap