Flyers G Neuvirth stops 30 shots in 3-0 win over Blackhawks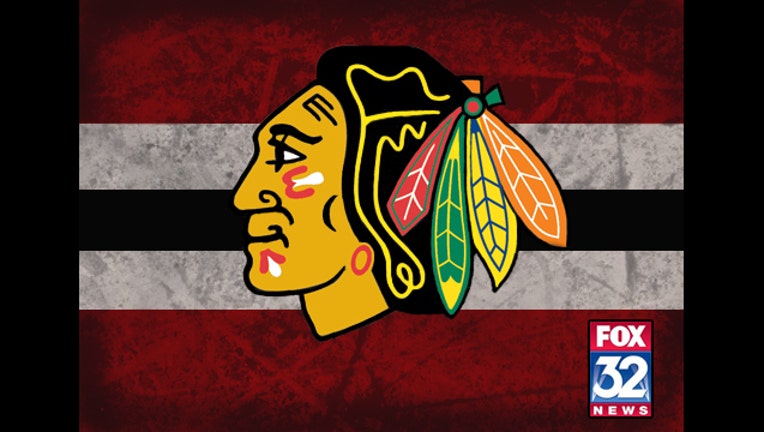 PHILADELPHIA (AP) — Claude Giroux summed up what all of Philadelphia loves the most about Michal Neuvirth.
"That he doesn't let any goals in," Giroux said.
Just ask Florida and Chicago.
Neuvirth stopped 30 shots in his second straight shutout, leading the Flyers to a 3-0 win over the Chicago Blackhawks on Wednesday night.
Giroux, Sam Gagner and Matt Read scored to lead the Flyers to their 12th straight regular-season home victory over Chicago. The Flyers have not lost to the Blackhawks in Philly during the regular season since Nov. 9, 1996.
The Blackhawks beat the Flyers in the 2010 Stanley Cup Final and clinched with a Game 6 win in Philly.
Filling in for Steve Mason, Neuvirth was sensational in his ninth career shutout. Mason missed a second straight game because of unspecified family reasons and there was no word when he would return. He won't have to rush back — Neuvirth has a shutout streak of 132 minutes, 5 seconds that dates to the third period of a 7-1 loss at Florida when he relieved Mason.
Neuvirth had 31 saves in a 1-0 win over Florida on Monday for his first shutout since 2012.
"The more I play, the better I feel and the more confident I get," Neuvirth said.
The Flyers rolled out the black carpet for former defenseman Kimmo Timonen, a five-time Olympian, during a pregame tribute and both teams stayed on the ice in celebration. Timonen was traded to the Blackhawks last season and retired following the Stanley Cup championship run.
Timonen stuck around to watch the Flyers storm past the Blackhawks.
Gagner scored his first goal of the season and beat Corey Crawford on the power play. Gagner, whom the Flyers acquired in the offseason from Arizona, had been irked because he was a healthy scratch the first two games of the season. Gagner rebounded with an assist in the Flyers' 1-0 win over Florida on Monday and snapped one over Crawford's shoulder in this one to prove his worth.
"I just wanted to get the puck past their first man. That's all you can do," Gagner said. "Guys are so good at blocking shots now days you just have to get it by their first man and let the guys in front do their jobs."
Giroux, Philly's captain, punched in a rebound for his first goal of the season in his 500th career NHL game.
Read scored his second goal of the season in the final minutes to secure the win.
Neuvirth wrapped up the win with a 15-save third period. Jeff Hackett in 2003 was the only other Flyers goalie with shutouts in his first two starts.
"I was relaxed, I just had fun and I trusted myself," Neuvirth said.
Crawford had 26 saves.
"There's some chances that we had, some open nets that could have changed the game that trickled away or got away from us. It wasn't our best game," he said.
Flyers fans were hard on Blackhawks winger Patrick Kane, chanting "she said no!" throughout the game. Kane was booed each time he touched the puck and the crowd erupted in cheers when defenseman Radko Gudas crushed him into the boards.
Kane is the subject of a sexual assault investigation in western New York. The All-Star winger has not been charged, and has said he expects to be exonerated.
The packed crowd came, though, to celebrate Timonen. Acquired from Nashville in 2007, Timonen had 38 goals, 232 assists and 270 points in 519 games over seven seasons with the Flyers. He played 1,108 NHL games over 15 seasons and scored 571 points.
The 40-year-old defenseman was traded to Chicago in February 2015 after he missed the start of the season while recovering from blood clots in his leg and lungs.
"I went this morning to see morning skate, saw both teams and talked to a lot of guys," he said. "The music, the preparation, and getting ready for the game I kinda went, 'Oh, this would be nice again.' Reality is, I'm 40 years old. I just had a glass of red wine. Can't really turn that down anymore."
Notes: NHL Commissioner Gary Bettman presented a $950,000 check to the Ed Snider Youth Hockey Foundation on behalf of the National Hockey League Players Association. The check was awarded for the foundation's rink development and for its "Hockey is for Everyone" youth development program. "In terms of worthy causes and programs that make a difference this is at the top of my list," Bettman said. ... Blackhawks C Jonathan Toews played for Flyers coach Dave Hakstol at North Dakota. ... The Flyers killed off all five Chicago power plays have killed off 11 straight penalties over the past two games.