For Bears, handling success is unfamiliar territory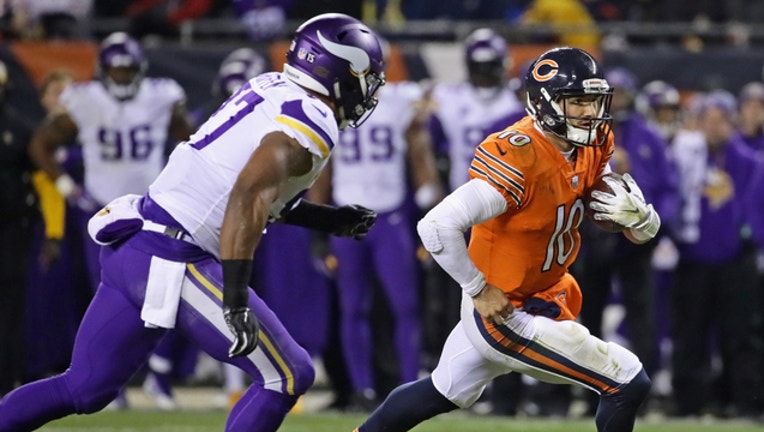 article
LAKE FOREST, Ill. (AP) - With a tighter grip on the NFC North, the Chicago Bears are in unfamiliar territory and facing a different kind of challenge as the season heads toward its final stretch.
Learning to handle success.
"We have to make sure that we just continue to keep those blinders on, keep the earmuffs on, don't listen to anything and just keep playing our football," coach Matt Nagy said.
The Bears sure look as if they're serious about winning the division after a 25-20 primetime victory over the second-place Minnesota Vikings on Sunday.
The defense dominated, with Khalil Mack leading the way. Cody Parkey bounced back from a miserable performance to make all three of his field goals. And the Bears (7-3) came away with their fourth straight win.
It's quite a change for a franchise with four consecutive last-place finishes. For the first time in years, managing success is an issue for the Bears.
"When it's the other way, and people tell you how bad of a coach you are, how poor of a player you are and you should be cut and you should be fired, we don't listen to it," said Nagy, in his first season as a head coach. "So it's the same thing when you're having success. You don't listen to it. You understand both sides, but we worry about what's said in this building."
There are plenty of good things to say about the Bears at the moment.
They're heading toward their first playoff appearance since the 2010 season. They're on their longest win streak since a six-game run in 2012. They beat division opponents the past two weeks after dropping 10 in a row against them. And they could make it three over the NFC North in a 12-day span with a victory at Detroit on Thursday.
The Bears beat the Lions 34-22 at Soldier Field on Nov. 11 , with Mitchell Trubisky throwing for a career-high 355 yards and three touchdowns. Chicago also jumped out to a 26-0 lead and sacked Matthew Stafford six times in that game.
The victory over Minnesota was a sort of validation for Chicago after beating teams with losing records the previous three games, including the New York Jets and Buffalo Bills.
"It shows that we can battle with the best of them," running back Tarik Cohen said. "It shows that we are still getting better and that we haven't reached our ceiling yet. Only we can decide what our ceiling is."
The Bears are looking good at the moment, with a defense ranked third overall through Sunday. They were allowing league lows in yards rushing per game (77.8) and per carry (3.5), and had more interceptions (18) and takeaways (27) than any other team.
"I think our offense is doing a great job with having the first possession and putting points on the board," cornerback Prince Amukamara said. 
"Our offense is really getting things going, so it makes it a little bit easier for the defense because now we know the opposing team's offense needs to get going and start passing more to get points on the board."
Mack had a sack against Minnesota, giving him three in the past two weeks and eight in eight games this season. And Eddie Jackson returned an interception for a touchdown in the fourth quarter. 
Parkey also got some redemption after hitting uprights four times while missing two field goals and two extra points against the Lions. But he didn't attempt an extra point on Sunday.
Nagy opted to go for two after each of their two touchdowns. And he acknowledged Parkey's struggles the previous week factored into those decisions. He also insisted his own aggressive nature and a belief the plays would work were big reasons.
Chicago converted both times, with Trubisky passing to Josh Bellamy in the second quarter and Adam Shaheen in the fourth.
"It worked," Nagy said. "It doesn't always work. And you've got to make sure that you get two out of every three."
Nagy said he discussed the plan with Parkey and wasn't worried about how it would impact his confidence. 
"Whenever you're honest with people, it's so easy to do what you do because you're real with them," Nagy said. "You tell them exactly what you're feeling and everybody knows the plan."