Gonzalez Game 2, Scherzer Game 3 for Nats; Harper bats 2nd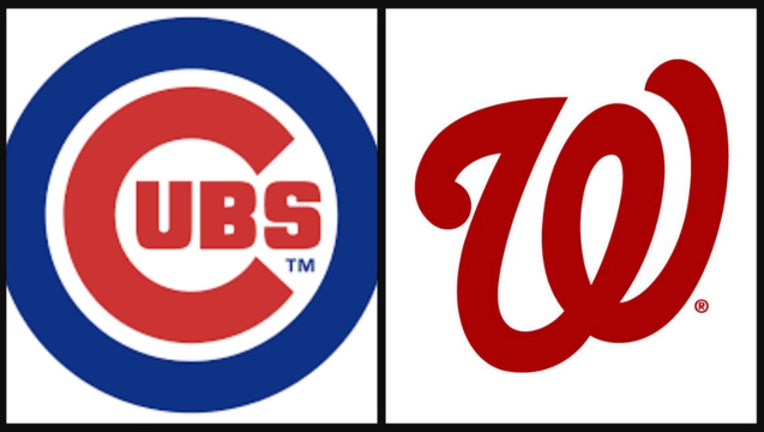 article
WASHINGTON (AP) - Two-time Cy Young Award winner Max Scherzer is scheduled to pitch Game 3 of Washington's NL Division Series against the Chicago Cubs, after Gio Gonzalez starts Game 2.
Nationals manager Dusty Baker finally announced his rotation plans, just a few hours before Game 1 against the defending World Series champions Friday night.
Scherzer's playoff debut this year was delayed because he tweaked his right hamstring in his last regular-season appearance. He had been slated to throw a bullpen session off a mound Wednesday, then Thursday, but finally did so on Friday.
Gonzalez was 15-9 with a 2.96 ERA this year. Saturday's game against Cubs lefty Jon Lester will be Gonzalez's fifth postseason start but only second at home. His other Nationals Park playoff outing came in 2012, when he was staked to a 6-0 lead in a 9-7 loss to St. Louis in the deciding Game 5 of an NLDS.
The left-hander said he had been preparing to pitch in Game 3 at Wrigley Field until he was told Wednesday to get ready for Game 2.
Washington's batting order against Kyle Hendricks in the opener included 2015 NL MVP Bryce Harper hitting second, after leadoff man Trea Turner. Anthony Rendon hits third, followed by Daniel Murphy and Ryan Zimmerman. Harper returned last week after missing 42 games with an injured left knee.
"Perhaps he'll get fastballs with Trea getting on base, which is important, and we know that Bryce isn't back 100 percent timing-wise," Baker said. "So you want to not have him in those key RBI situations right now. By next week or end of this five-game series, we might do something different."
Chicago's lineup against Nationals righty Stephen Strasburg on Thursday also has a past NL MVP in the No. 2 hole: 2016 honoree Kris Bryant, who is followed by Anthony Rizzo, Willson Contreras and Kyle Schwarber.
Cubs manager Joe Maddon explained his choice of Schwarber this way: "It's hard to, like, string a bunch of hits together against a guy like Strasburg. So just chose power tonight, as much as anything."
The teams' NLDS rosters were released Friday morning, and John Lackey made Chicago's 25-man list. Lackey was not among the starting pitchers that Cubs manager Joe Maddon already had announced, so his status was in doubt. Lackey, a right-hander, has won three World Series titles, but he was only 12-12 with a 4.59 ERA this season for the NL Central champions.
Also in Chicago's bullpen, in a mild surprise, is left-hander Justin Wilson, who had a 5.09 ERA in 17 2/3 innings with the Cubs after arriving from the Detroit Tigers in a trade. But he also has this key career stat: Murphy is 0 for 6 against Wilson with three strikeouts.
The Cubs chose to go with two catchers instead of three, with Alex Avila backing up Contreras. They kept Rene Rivera off the roster even though he came up big down the stretch, going 15 for 44 after Chicago selected him off waivers from the New York Mets in August. Schwarber, an outfielder, could catch in a pinch.
The Nationals also kept only two catchers, starter Matt Wieters and backup Jose Lobaton, while dropping Pedro Severino.
In the bullpen, Washington dropped right-hander Joe Blanton and kept a total of four lefty relievers, including Enny Romero and Sammy Solis.
Washington put two reserve rookie outfielders on the roster, 20-year-old Victor Robles and Brian Goodwin.
Robles made his big league debut Sept. 7 and has 24 at-bats in the majors. Goodwin hasn't played for the Nationals since mid-August because of groin injury that caused him to go on the disabled list.
As for why Robles was chosen, Baker said: "We were weighing the need for speed, and also the need for defense, and especially if I have to run for Wieters or run for Lobaton."