Hartman lifts Blackhawks past Maple Leafs 2-1 in OT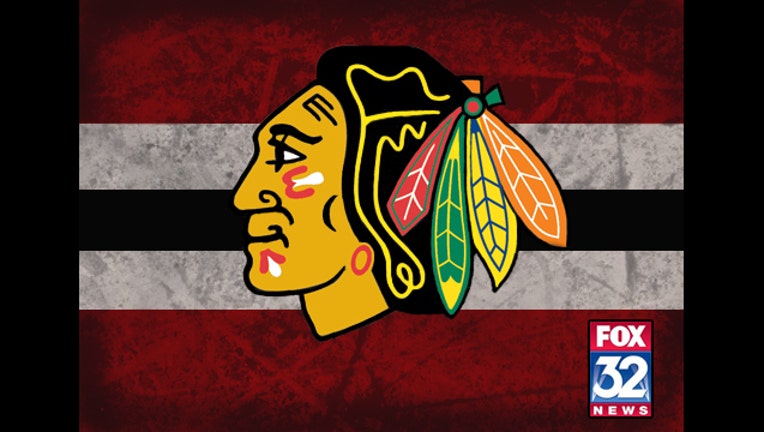 article
TORONTO (AP) - Ryan Hartman and the Chicago Blackhawks knew they already had one point in overtime. They were hungry for one more to complete a successful road trip.
Hartman scored with 17 seconds left in overtime to lead the Blackhawks past the Toronto Maple Leafs 2-1 on Saturday night.
"We had a really good trip," Hartman said. "We won our first two and we were just trying to finish off 100 percent on the road for these three games and we were able to do that. That was a good team. They're fast. They've got a lot of skill. That extra point was big for us."
John Hayden notched his first NHL goal, and Corey Crawford stopped 25 of 26 shots for Chicago, which holds the top spot in the Western Conference with 97 points following their fourth straight win.
"That's the standard here," said Hayden, who scored in his second NHL game after being signed by the Blackhawks last week. "It's a winning culture. I've learned a lot from these guys only in a couple days."
Hayden had been playing for Yale the last four seasons, and was signed right after the Bulldog's lost to Harvard in the ECAC quarterfinals. He was a third-round pick of Chicago in the 2013 NHL draft.
"He looks good," Hartman said. "He's going through the body. He's getting pucks deep, he's not turning pucks over at the blue line. He's getting them deep and going on the forecheck. He had a goal tonight and it was a pretty nice-looking first goal."
Auston Matthews had a goal to snap a seven-game drought, while Frederik Andersen made 37 saves for the Maple Leafs, who hold the final wild-card spot in the Eastern Conference with 79 points.
"Every day, you talk about how big the game is, but that's what we're going to do right 'til the end. You can just tell by looking at it," Leafs coach Mike Babcock said. "That's a huge point for us today, an absolutely huge point. But we've got to keep getting better."
Toronto took a 1-0 lead in the first period when William Nylander took a quick pass from Matthews and then sent it right back to Matthews, who crashed the front of the net and redirected a shot through Crawford's pads.
Matthews inched within two goals of Wendel Clark's franchise rookie record (34 in 1985-86) with the goal. The 19-year-old rookie hadn't registered a goal or point since Feb. 28 in San Jose.
Nylander set a career high by extending his point streak to seven games. The 20-year-old has seven points in that span and 51 points on the season - tied for fourth on the Leafs and fourth among all NHL rookies.
Andersen nearly allowed a goal in the opening minute of the second when he bobbled a shot from Jonathan Toews. He kept the Leafs in front until the midway point of the frame when Hayden evened the game at 1. The play started in the Chicago zone with Brent Seabrook firing a long outlet pass to Toews. Chicago's captain then found Hayden, who kicked the pass from his left skate to his stick before beating Andersen.
"He was telling me to shoot the puck before the game," Hayden said of Toews. "He obviously made a great play and it felt pretty good."
James van Riemsdyk had a chance to win it in overtime, but his backhand attempt was kicked away by the right pad of Crawford. Hartman scored about two minutes later to win it for the Blackhawks.
"The ice was brutal so I was just trying to do something where the puck wouldn't hop on me," van Riemsdyk said. "You always take the points you can get and run with them, especially with the race that we're in."
NOTES: Chicago played without injured forwards Marian Hossa (lower body) and Artem Anisimov (lower body). ... Toronto nearly scored when Nylander ripped a shot off the crossbar, and Matthews was later robbed by Crawford's blocker in the waning moments of the second period. Matthews came close again to start the third, his shot from in tight denied by Crawford. ... The Leafs wore green and white uniforms that paid tribute to an earlier era (1919-27) when the club was still known as the St. Pats. It's only the second time since the name change in 1927 that the uniforms have been worn - the first time coming in 2002.
UP NEXT
Blackhawks: Home vs. Colorado on Sunday night.
Maple Leafs: Home vs. Boston on Monday night.