Holtby's 26 saves lift Capitals to 4-1 win over Blackhawks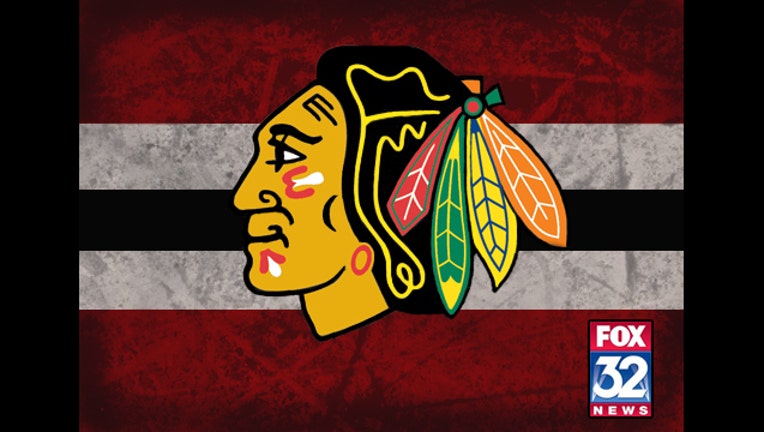 article
WASHINGTON (AP) — The Washington Capitals bounced back from a miserable performance with a gem of an effort against the Chicago Blackhawks, who are having difficulty scoring as they begin defense of their Stanley Cup title.
Braden Holtby stopped 26 shots, Alex Ovechkin contributed a goal in his return and the Capitals cruised to a 4-1 victory Thursday night.
John Carlson, T.J. Oshie and Matt Niskanen also scored for the Capitals, who welcomed back Ovechkin following a one-game disciplinary absence.
Ovechkin was benched Tuesday night against San Jose after missing practice that morning. He said he overslept after accidentally setting his alarm for 8:30 p.m. instead of 8:30 a.m.
Without him, the Capitals lost to the Sharks 5-0. They stewed about it for a day, then came out energized against Chicago from the first drop of the puck.
"We were ready to play, we were ready to skate, we were on the same page," Holtby said. "I think the other night was a pretty good wakeup call for us."
Chicago, on the other hand, improved only marginally from their previous outing — a listless 3-0 loss to Philadelphia one night earlier.
In this one, the Blackhawks trailed 3-0 before Viktor Svedberg got his first goal of the season at 3:13 of the third period. That ended a scoreless drought of 107 minutes, 46 seconds.
Blackhawks coach Joel Quenneville took consolation in his team's 17-shot second period. Midway through the stanza, Andrew Desjardins missed an open net from the left side at the end of a 2-on-1 with Andrew Shaw.
For Chicago — which has only 10 goals in five games — coming close counts for something.
"Certainly, the second period we were fine," Quenneville said. "We had some great chances at an empty net and missed. Not sharp around the net."
It isn't time to panic, but the Blackhawks can't pretend this scoring drought doesn't matter.
"I mean, we're not happy with how we played the last few games," center Marcus Kruger said. "All of us have got to get better and take responsibility."
Although the Blackhawks finally broke through with a goal in the third period, they took only five shots over the final 20 minutes. After Svedberg scored, the Capitals took over.
"That was the first time this year that we recognized the key moment," Washington coach Barry Trotz said. "That was a moment we needed to respond. We killed their enthusiasm a little bit."
Ovechkin sealed the victory at 14:18, scoring from the left side of the net after a back-and-forth with teammate Evgeny Kuznetsov.
The Capitals were obviously delighted to have their franchise scoring leader back on the ice, but they still had to do without center Nicklas Backstrom, who has yet to play this season while recovering from hip surgery. Backstrom led the NHL in assists last season and tied for third with 33 points on the power play.
Oshie gave the Capitals a 1-0 lead at 8:48 of the first period with a shot from between the circles, his first goal with Washington since being traded from St. Louis in July. Chicago was 9-for-10 on the penalty kill before Oshie connected.
Carlson scored from just inside the blue line at 3:09 of the second period while Blackhawks goalie Scott Darling was screened by Marcus Johansson.
Niskanen made it 3-0 at 2:32 of the third period. Svedberg answered less than a minute later, ending Holtby's bid for his 21st career shutout.
The Blackhawks are just over halfway done with a peculiar eight-game run against Eastern Conference foes to start the season. Chicago (2-3-0) has never opened with this many successive out-of-conference games, and hadn't gone through a stretch like this at any point in the season since 1984-85.
Chicago has lost five straight in Washington since January 2006.
Notes: Chicago's Patrick Kane was held without a point after collecting three goals and three assists in his first four games. ... The Capitals recalled 21-year-old C Chandler Stephenson from Hershey of the AHL. The 2012 third-round pick played nearly nine minutes in his NHL debut but did not register a point. ... Chicago didn't take its first shot on goal until 9:17 of the first period and took only five over the first 20 minutes. ... Kuznetsov played in his 100th NHL game, all with Washington.