Hossa's 12th goal gives Blackhawks 4-3 OT win over Devils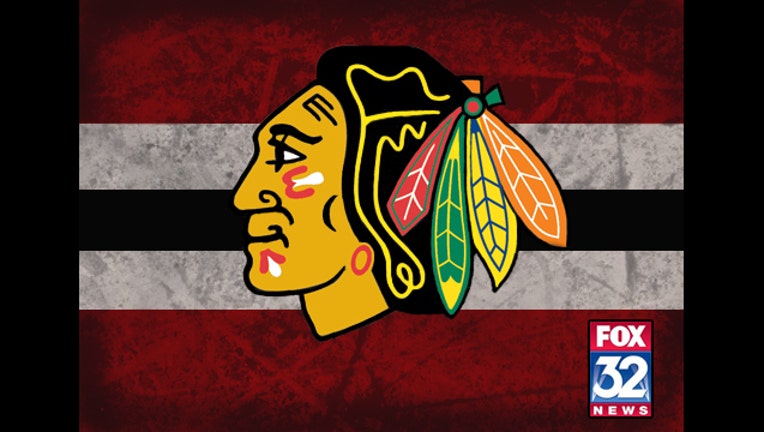 article
CHICAGO (AP) — Marian Hossa may be playing like the most experienced member of Chicago Blackhawks, but he doesn't show signs of being one of the team's oldest players.
The 37-year-old forward is as crafty as ever and seems to have plenty of gas left in the tank — even when Chicago rolls beyond regulation time.
Hossa scored his team-leading 12th goal through a screen at 1:31 of overtime to lift the Blackhawks to a 4-3 victory over the New Jersey Devils on Thursday night.
Hossa's shot through traffic from high in the slot beat Cory Schneider on the glove side, moments after New Jersey's Mike Cammalleri hit the post on a prime chance against Chicago's Corey Crawford.
"(Patrick Kane) took the puck, just gave it to me and I tried to hold it and maybe see my options," said Hossa, who will turn 38 on Jan. 12. "And I didn't see anything so I tried to shoot through the screen.
"I don't think goalie saw much. It wasn't a hard shot but I just tried to shoot it at the net."
It worked, and the Western Conference-leading Blackhawks won their second straight as they played beyond regulation for the third consecutive time. Chicago is 3-0-1 in its last four.
Hossa's heroics allowed the Blackhawks to overcome a hat trick by New Jersey's Travis Zajac in a high-tempo game with few stoppages.
Zajac's third goal of the game at 8:49 of the third tied it 3-all after scores by Chicago's Artem Anisimov and Niklas Hjalmarsson late in the second period had put the Blackhawks ahead.
"(Hossa) seems to have found the fountain of youth," Hjalmarsson said. "He's looking better and stronger than ever.
"He's been a huge key player for our team. One of the most professional players I've ever played with. Fun to see how hard he still works."
Marcus Kruger also connected for Chicago to end a 22-game drought.
The Devils have dropped four straight, but coach John Hynes isn't upset with his team's energy level.
"We competed, we played with passion, our quality of play was very good," Hynes said. "We have to clean up some penalties but I think if we have the competition level, the passion we played . we have something to really build on."
Zajac completed his second career hat trick from the low edge of the left circle after taking a slick cross-ice pass from Cammalleri. He fired into a wide open net before Crawford could react.
Zajac, who had a two-goal game on Oct. 25 against Arizona, has eight goals this season.
"It feels good," Zajac said, "but you'd trade it for a win, especially a road win, because we've had difficulty getting those."
The Devils are 3-7-4 on the road, but 7-0-2 at the Prudential Center.
Crawford finished with 30 saves, Schneider made 29.
New Jersey forward Taylor Hall returned to the Devils' lineup after missing eight games with a torn meniscus in his left knee.
Hall had knee surgery on Nov. 16. The No. 1 overall pick in the 2010 draft originally was expected to miss three to four weeks.
The Blackhawks played without captain Jonathan Toews, who missed his fourth straight game due to an upper-body injury. The 28-year-old center has four goals and eight assists in 21 games.
New Jersey forward John Quenneville, the 20-year-old second cousin of Blackhawks coach Joel Quenneville, made his NHL debut. John Quenneville was the Devils' first-round draft pick, 30th overall, in 2014.
Anisimov tied it 2-2 when he drove to the net and backhanded in a loose rebound. Schneider made a pad save in Anisimov's initial tip-in attempt of Duncan Keith's shot from the point.
Hjalmarrson put Chicago in front for the first time, 3-2, with 1:35 left in the second on a fluttering screened shot from high in the slot.
NOTES: Zajac's recording his first hat trick in March 2014 vs Florida. . New Jersey acquired the 25-year-old Hall in a trade from Edmonton last June. He had five goals and seven assists heading into Thursday night. ... Anisimov appeared to be at 100 percent, despite limping off the ice in the third period of Tuesday's 2-1 shootout win over Florida after Keith's shot hit the inside of his lower right leg. ... New Jersey C Sergey Kalinin missed the game due to an illness. ... The Devils healthy scratches were D Jon Merrill and C Jacob Josefson. Chicago sat out F Jordin Tootoo and D Gustav Forsling.
UP NEXT
Devils: Conclude a four-game trip in Nashville on Saturday afternoon.
Blackhawks: Visit the Philadelphia Flyers on Saturday afternoon.